It's been almost a year now since face masks became a regular part of our lives. Furthermore, wearing masks is totally mandatory in our beloved country so we have no other choice but to wear it.
What Is Maskne?
In term of maskne, mask + acne or acne mechanica is a form of blemishes, skin irritation, peeling, or redness around your jawline, cheeks, and mouth. This happens due to prolonged periods of wearing a mask.
Typically, acne occurs when pores become clogged by sweat, oil, moisture, or dirt. These elements trap bacteria beneath the skin's barrier, creating a pimple.
How It Cause?
😷 Moisture – repeatly breath beneath the mask creates a humid environment – a breeding ground for acnes.
😷 Bacteria – Sweat, oil, and makeup can become trapped under the mask and clog pores. Every time you adjust your mask or even just put it on, you're introducing pore-clogging oil and dirt into your pores from your hands.
😷 Warm Weather – Heat and humidity can exacerbate acne, inside and outside the mask. Higher temperatures increase your face's sweat and oil protection. And the more oil and sweat, the easier it is for bacteria clogged into pores to turn into blemishes.
How Did I Get Rid Of It?
Change my mask every few hours
I wear surgical mask and I can say this kind of mask is not sweat proof. So the more humid my mask area is, the more chances it will irritate my skin.
Cleanse Face With Gentle Cleanser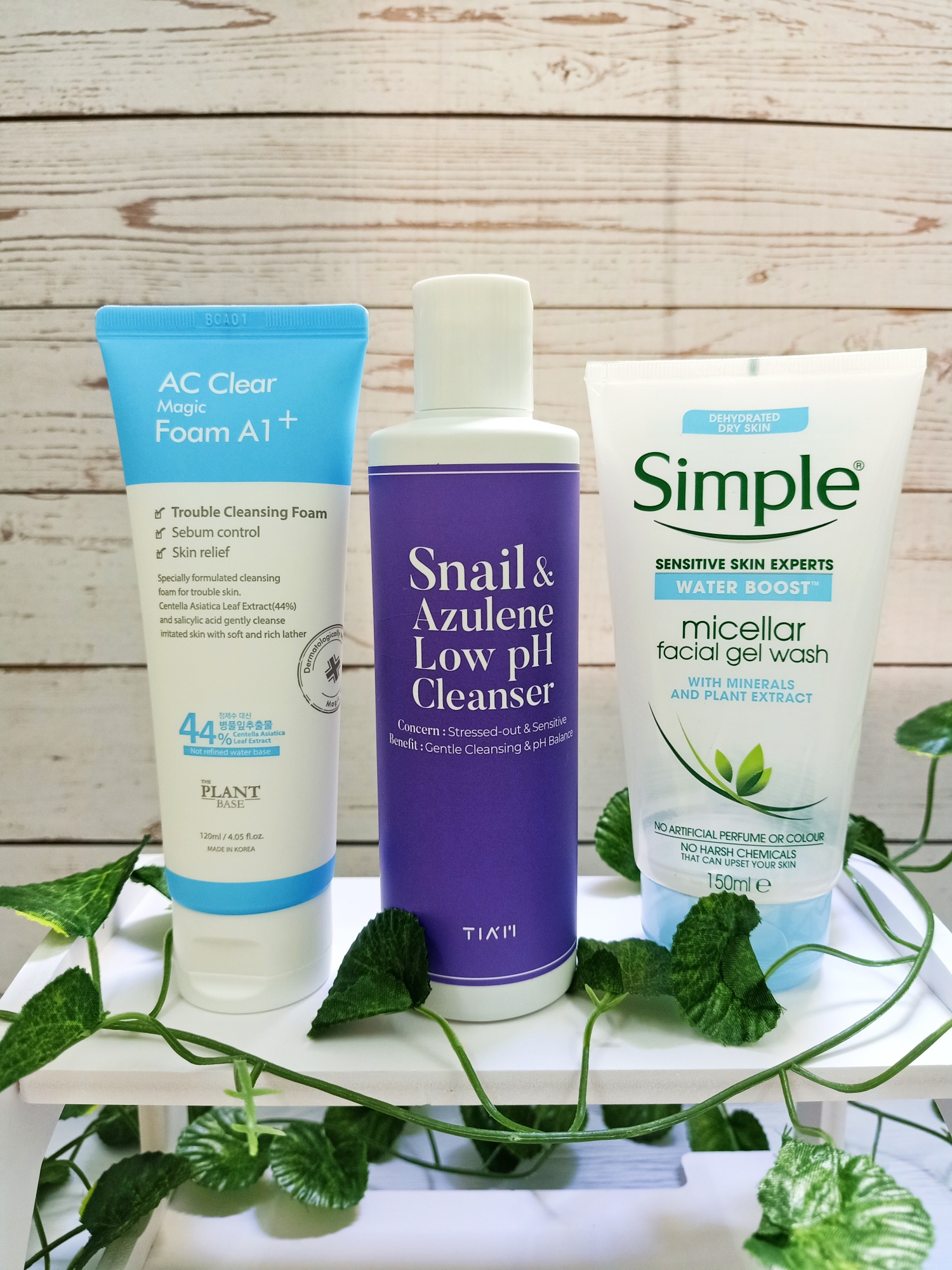 I will cleanse my face with low ph and gentle cleanser twice a day and only with micellar water in between. After hours of rubbing and chafing, your skin needs a gentler formula to keep the skin barrier intact. I will start my morning routine with either Simple Water Boost Micellar Facial Gel Wash  or Tiam Snail & Azulene Low pH Cleanser and at night I use The Plant Base Ac Clear Magic Foam A1+.
Exfoliate Regularly
In this part, I will choose chemical exfoliator like Aha, Bha and Pha over physical exfoliators like face scrubs. So I will choose the daily exfoliation toner because the daily toner is more gentler and didn't sting my skin. For instance, I love Commonlabs Total Vita Balancing Toner and Naruko Tea Tree Toner. Nacific Pink Aha Bha Toner is good for dry skin while for oily skin I suggest to try this Tiam Ac Fighting Aha Bha Pha Toner but this one contains alcohol but non drying.
Stay Clear Of Drying Products
For me, hydration is the key of all skin problems. So I will always pick the products that can give me the hydration my skin needs. These products help to repair my skin barrier too. So just focus on hydration, calming, soothing and nourishing the skin. These are some of the products that available in Hermo like Dermatory Azulene Cica Powder Toner (soothing bae), Pyunkang Yul Essence Toner & Moisture Serum and also Axis-y Artichoke Intensive Skin Barrier Ampoule.
Use Moisturizer
Using a light, nightly moisturizer helps to strengthen the skin barrier, preventing skin irritation from the mask. For me, I like to use simple moisturizer that can seal all the goodness and on the same time can give me the hydration without feeling suffocating. So I choose The Plant Base Ac Clear Pure N Cream & Tiam Ac Fighting Oil Free Aqua Cream.
Hold Off On Make Up
What is the purpose of using make up later it will be hiding by mask right? No point. So I will skip foundation and any powder, but I still do the mascara, eyebrows and blusher.
Don't Skip SPF
This is crucial part for my routine. Since I skip my make up, I will choose the sunscreen with tone up effect like Allie Nuance Change UV Gel. I really love this sunscreen since it gives me the glow and fresh look like wearing a foundation or something. Other than that Purito Comfy Water is also another choice of mine and for body I will apply Make Prem Blue Ray Sun Fluid. For easy application, Abib Quick Sunstick might help me to reapply my SPF.
Spot Treatment
At night after I cleanse and settle my routine, I will use spot treatment in the last step. Focused spot treatments can help zap acne and reveal clear, shining skin. These three Spot Treatment is superb especially the Tiam Ac Fighting Spot Rx Cream and Commonlabs Vitamin E Micro Needle Spot Cream. But sometimes I use Nuvit Acne Purifying Gel in the am routine because of the 'invisible' touch on skin since it has a clear gel texture.
Look for spot treatments with one or more of these ingredients:
Salicylic acid
Sulfur
Zinc
2.5% benzoyl peroxide
So I hope this article will help you a bit to fix the maskne problem. See you next time.