Don't you just hate to see a fresh new pimple popping out when you look at in the mirror first thing in the morning? To some people this could ruin their mood for the rest of the day. I had my time like that too but not today. I decided to just embrace it and don't let ruin my day. Everyone has their own struggle in their skin recovery journey, or their life really. It's okay, take it easy, and remember don't be too hard on yourself.
I know I had to find myself something calming for my skin so lets get ready with me? Today I decided to use Etude House 0.2 Therapy Air Mask [#Madecassoside] as my my soothing magic 
This mask contains Madecassoside and Centella Asiatica Extract, well-known for providing soothing effect to take care of tired-looking skin affected by dry environment and improves the defense of sensitive skin
Water, Dipropylene Glycol, Caprylic/Capric Triglyceride, Glycerin, Methylpropanediol, Sorbitan Stearate, 1,2-Hexanediol, Sorbitan Sesquioleate, Sucrose Cocoate, Butylene Glycol, Glycyrrhiza Glabra (Licorice) Root Extract, Zingiber Officinale (Ginger) Root Extract , Coptis Chinensis Root Extract, Camellia Sinensis Leaf Extract, Centella Asiatica Extract, Sodium Hyaluronate, Citrus Limon (Lemon) Fruit Extract, Citrus Nobilis (Mandarin Orange) Oil, Lavandula Angustifolia (Lavender) Oil, Eucalyptus Globulus Leaf Oil, Pinus Palustris Oil, Juniperus Mexicana Oil, Madecassoside, Sodium Acrylates/C10-30 Alkyl Acrylate Crosspolymer, Hydroxyethylcellulose, Arginine, Cyclodextrin, Disodium EDTA, Ethylhexylglycerin, Limonene, Citral, Linalool, Geraniol, Citronellol


GLYCYRRHIZA GLABRA (LICORICE) ROOT EXTRACT is a great anti-inflammatory ingredient. It is packed with licochalcone, a molecule contained in licorice root extract which helps control oil production, great for acne-prone skin as it helps calm and soothe red inflamed acnes
CENTELLA ASIATICA EXTRACT or also known as 'tiger grass' and is often used in cosmetics to help with the regeneration of new skin cells and prevents scarring. Centella Asiatica Extract is usually the primary ingredient in ointments as it works as an effective calming and soothing agent
MADECASSOSIDE is a derivative from Centella Asiatica. It is a powerful soothing agent for damaged skin-barrier, serving as antioxidant and boosts the production of collagen in skin
Fit : 4/5
Fit nicely for my face although the cut around my eyes and mouth is a bit large
Material : 5/5
Incredibly soft and breathable.  The material is so thin that skin is visible underneath but it doesn't tear easily
Adherence : 5/5
Thanks to its essence texture, this mask snugs all the corners or my face and doesn't budge at all
Scent : 4/5
Slightly sweet herbal-ish scent
Texture : 3/5
Viscous white milky texture
Recommended Skin Types
For all skin types that in need of soothing and repairing skin barrier
Recommended time : 15-20 minutes
Dehydrated-combination, oilier on nose and cheek area. Prone to redness and mild acne.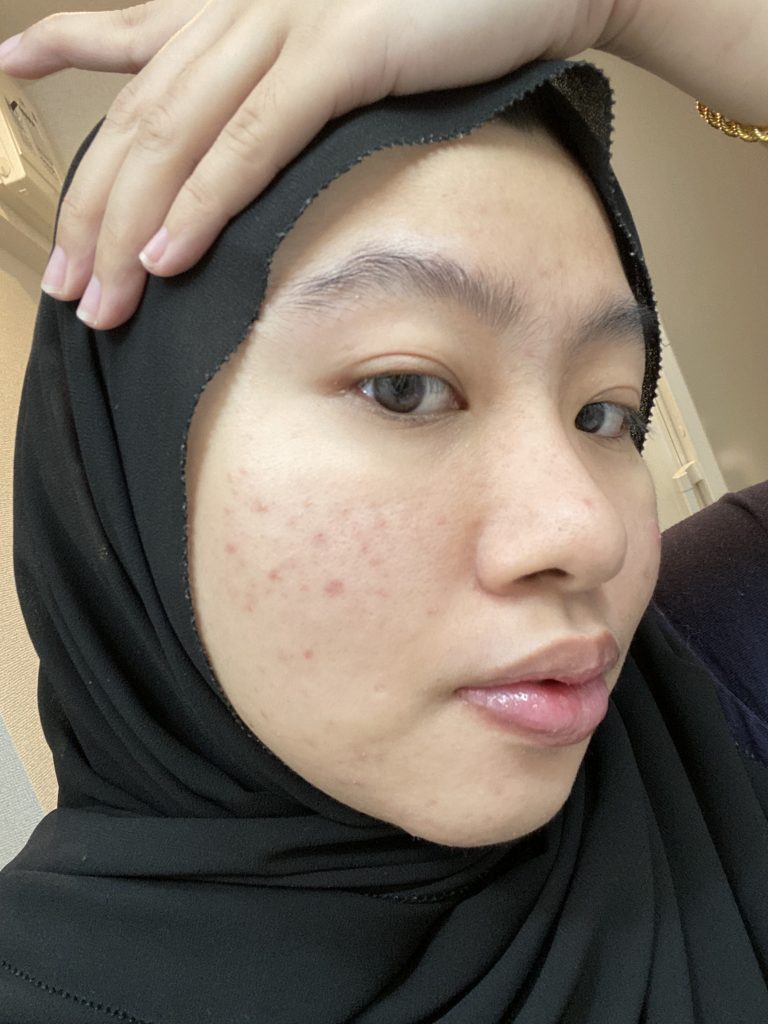 So this is how my skin look like; cleaned and air-dried. I struggle with mild acne that occasionally pops up here and there especially during that time of the month or if I take too much sugary and oily food. In my case, I made myself milk tea the night before so it's probably due to the sugar and dairy. 
I noticed my skin soaked in sheet mask's essence way better when my skin is slightly damp. Here, I lightly sprit my favorite Caudalie grapewater mist to hydrate my skin, you can use your personal choice of face mist for this step or skip if you don't feel like you need to.
The essence of this sheetmask is really viscous compare to what I would prefer but it doesn't feel heavy on the skin like I thought it would. 
I couldn't really smell and not sure how to describe what scent does it gives off but it's a really mild and calming scent IMO. It feels very hydrating and cooling which I really love and I didn't experience any irritation or discomfort throughout the masking sesh.
After a lil more than 20 minutes I took the sheetmask off. My skin looks a lot calmer, super hydrated and more radiant if I say so 
 There wasn't much different for my right side cheek but it looks like most of my redness are gone on my left cheek. Look my pimple even shrink a bit! It didn't hurt at all when I touch the spot and I couldn't be happier with the result
I was kinda lazy for a longer routine so I just proceed to moisturize and lock in the hydration with Physiogel Calming Relief A.I Cream. I actually dabbed a lil too much for the photo but its okay. 
I would use this cream for any dry or irritated skin not just for face but my body too. It help a lot relieving itchiness and sore that I experience with some dry flaky rashes I used to get on the back of my thighs a long while ago. And never forget to wear sunscreen people! I'm using Klairs Soft Airy UV Essence SPF50 PA ++++ for my sun protection. Love how the texture of this sunscreen feels on my skin. It is lightweight and doesn't leave any white cast 
My face usually look a bit dull because my lip color is quite dark so I need to vamp myself up with a lil bit of this Minnie Mouse theme tinted lip balm I absolutely love from LipIce! It has SPF15 because your lips need to be protected too you know! I'm wearing code Berry Red, red with a lil bit of purple hue to it. It is moisturizing and the color lasting-power is pretty good too.
That's pretty much wraps up my morning routine for the day. Sorry for such un-professional head shot but please bear with me LOL! I like the sheet mask though. Personally I'd prefer much runnier texture essence but I will surely repurchase it along with tea tree and green tea variants
P/s: All opinions and thoughts are based by my experience and solely mine.