I personally love a fragranced shower gel because it lifts up my mood while having a me-time shower session. When Nivea launched a new shower gel that offers scented shower gel of fruits, I was sold. I bought the Nivea Fresh Blend Refreshing Shower from Hermo because it's not yet available at drugstores at the time of the purchase.
There are 3 variants to choose from:
1. Apricot Mango – Refreshing shower with Apricot, Mango & Rice Milk.
2. Raspberry Blueberry – Refreshing shower with Raspberry, Blueberry & Almond Milk.
3. Watermelon Mint – Refreshing shower with Watermelon, Mint and Coconut Milk.
I actually bought all 3 to try but today I'm sharing about my most favourite, Apricot Mango. 
Descriptions:
The delightful & refreshing 98% biodegradable formula is lovingly blended with naturally derived ingredients, fruit extracts & plant based milk. Bottle made from 100% recycled plastic, helping to reduce impact on the environment.
– 98% biodegradable formula
– 90% naturally derived ingredients
– Vegan formula – no animal or animal derived ingredients
– Bottle made of 100% recycled PET plastic
Full Ingredients:
Aqua, Sodium Laureth Sulfate, Cocamidopropyl Betaine, Coco-Glucoside, Sodium Chloride, Prunus Amygdalus Dulcis Oil, Mangifera IndicaJuica, Prunus Armeniaca Juice, Oryza Sativa Extract, Glycerin, Bisabolol, Propylene Glycol, Sorbitol, Citric Acid, Glycol Distearate, Laureth-4, Sodium Hydroxide, Xanthan Gum, Cetearyl Glucoside, Glyceryl Stearate SE, Trideceth-9, Sodium Sulfate, Denatonium Benzoate, Sodium Benzoate, Trisodium EDTA, Phenoxyethanol, Potassium Sorbate, Benzoic Acid, Dehydroacatic Acid, Ethythexylglycerin, Genaniol, Linalool, Parfum CI15985
How to Use:
Lather body wash gentle all over body. Rinse off with water. Suitable for everyday use
Capacity:
300ml
The Packaging:
The shower gel is housed in a medium sized plastic bottle where you can clearly see the shower gel inside. It comes with Nivea's signature flip cap lid, with Nivea's brand embossed on top of the lid.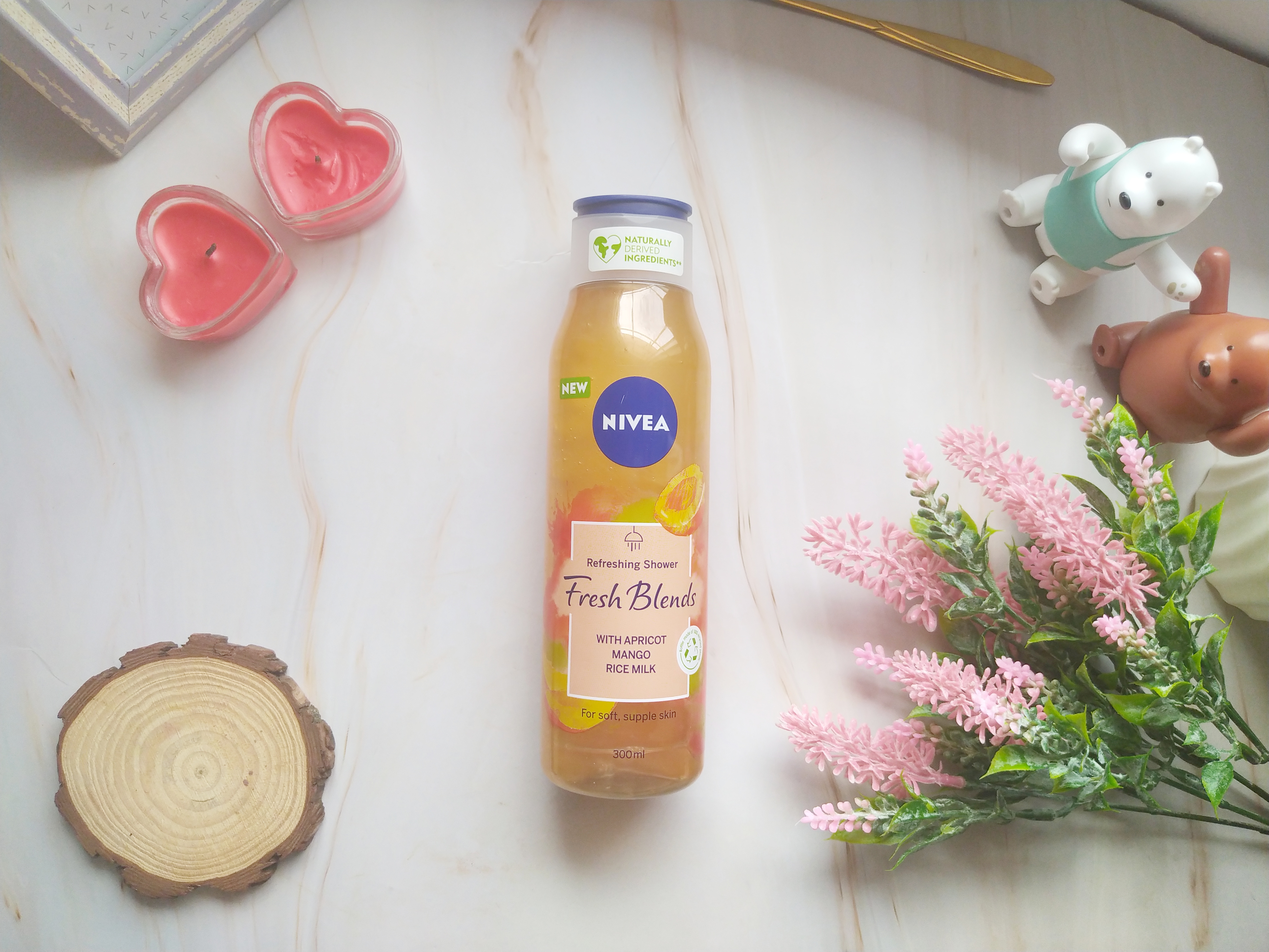 The Scent:
Delicate apricot and mango scents that lingers
My Experiences:
The shower gel, orange in color has a very strong scent, which I love as I'm an mango fruit lover. The scent does lingers on my skin after a while post shower.
It comes with a nice slip, lathers well and forms soft bubbles that are gentle to my skin. For an extra bubble maker, you make use a loofah. However, when I'm not using a loofah I do noticed that I had to use a lot of the gels to cover my whole body.
My skin feels soft and smooth after I rinse it off. What I like about it is it does not make my skin feels dry.
The size of the bottle is quite small, 300 ml of shower gel usually takes me about 2 months to finish. I do hope Nivea will come out with a bigger volume of this shower gel because I am surely addicted to the scent.
The only thing to complain is how I wish the shower will come with a pump dispenser. Since it is a bit slippery, whenever I want to add more shower gel, I do find it difficult to handle the bottle with my slippery hands. A pump would definitely help save the day.
Rating:
5/5
Repurchase Intention:
Yes
SHOP HERE
Nivea Fresh Blend Refreshing Shower