I'm a sucker for brick red lipsticks ever since Korean brands started creating this shade. It has this natural yet elegant look to it, since it's like in between a red, orange, and brown colour. And I love it so much that I have 5 (probably more if I didn't control myself) different brands with similar shades.
Without further ado, let's check out the lipsticks!
1. 4u2 – You're Mine
This was the first lipstick I got in this shade range, and I'm still in love with it until now. Oh! And I think the packaging is worth noting, as it's a twist-to-close type, so you can bring it around in your handbag without worrying the cap will come off.
Texture
It's a matte-finish lipstick but it doesn't feel drying on the lips. However, I had to layer it 2 times in order to get this colour, which is strange because during my hand swatch (read more to see it), it was super creamy and pigmented. I guess lip and swatch application really produces different results.
2. BBIA – Last Lipstick Blue Series
Out of all the lipsticks I've ever had, this one fascinates me the most. It has a powder-like feel when I apply it, and despite how it sounds like, it glides nicely on the lips. Again, this requires a bit of layering to get the desired colour payoff.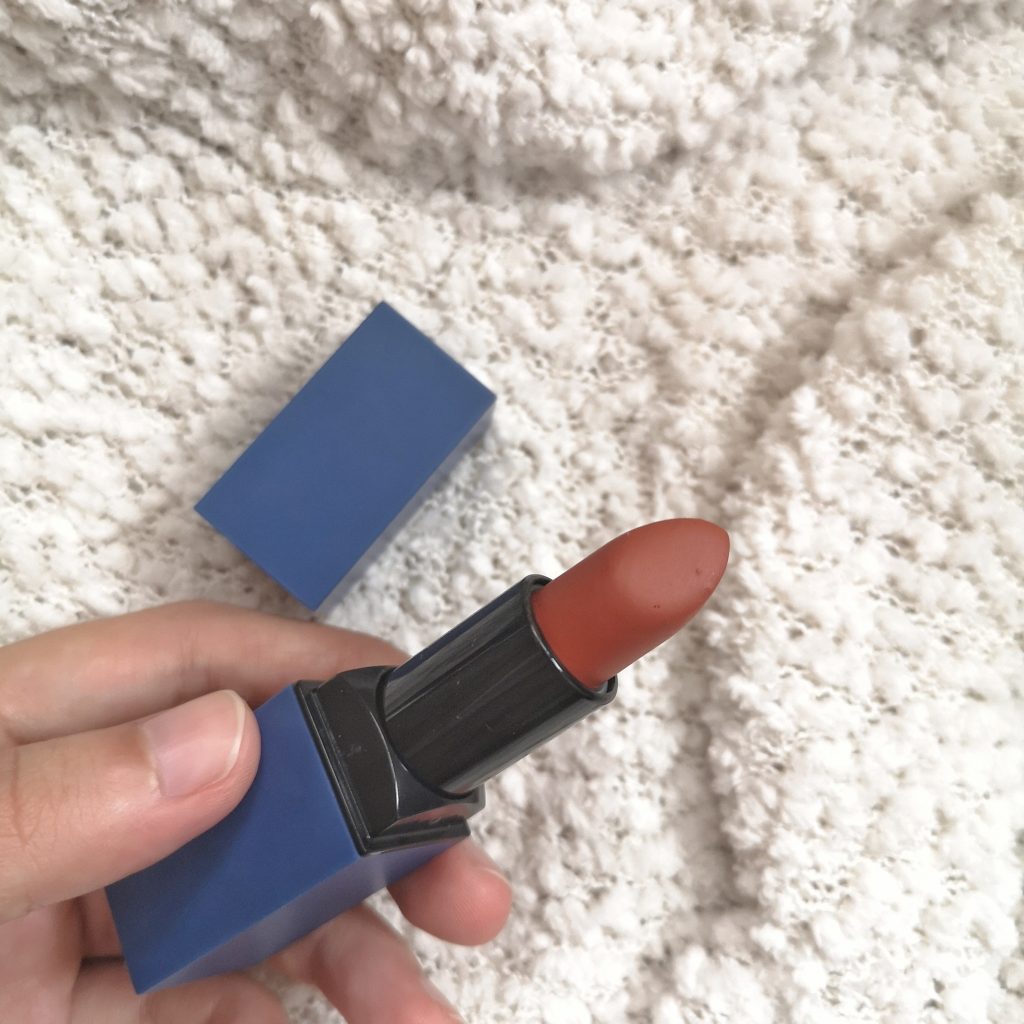 Texture
Since it has this powder-like texture, I think it made my lips look a little air-brushed (especially around the edges of the lips). So if you're into those lip-gradient look, this lipstick is the best choice for you.
SHOP HERE
BBIA Last Lipstick Blue Series
3. BBIA – Last Velvet Lip Tint
Despite the name being a lip tint, I didn't notice much staining on my lips as what lip tints normally do. So don't get high expectations on it being a tint.
Texture
It's very thick like a mousse, but it's not 'heavy' on your lips. But because it's rather thick, I find it a little hard to spread evenly on your lips. I'd recommend applying a thin layer because a little goes a suuuuuuper long way, and then using your finger to blend the rest.
Here's a side story, I felt a bit cheated when I bought this because I was expecting the colour to be more orange based on their official photo. But you can see my lip swatch that it's not the case. To me, it leans more towards red. Don't get me wrong, I still do love the colour! Just that I wish it's more orange.
SHOP HERE
[Boss Series] BBIA Last Velvet Lip Tint
4. L'Oreal Paris – Rouge Signature Matte Color Ink
I have a lot of things to say about this product. I bought it because so many beauty influencers I follow on Instagram are saying this is one of the best liquid lip (or lip tint?) they've tried. And they're 20000% right! It's comfortable, it's lightweight, it stains the lips very well, and the colour is 😍😍😍.
Texture
I had to layer this product since it's not exactly a lipstick since it's rather watery. But it's so worth it. I don't find it to be completely matte as what the product claims, but I love the subtle sheen to it. It sort of brings life to my lips.
SHOP HERE
L'Oreal Paris Rouge Signature Matte Color Ink
5. A'PIEU –  True Matte Fluid
I was attracted to get this when I saw their official photos, but what made me decide to get it was when I saw this claim in their description:
Light without stickiness, gently fill up lip wrinkles. No chapped lips.
Your girl here has a lot of lip 'wrinkles' (such a terrible word to use for something that happens naturally on your lips. But I digress.) so I wanted to see how it looked like on my lips.
Texture
It reminds me of a liquid matte lipstick, but without the 'weight'. My only complaint is that it feels very drying on the lips (despite it not looking like so in my photo) and it does crack a little in between my lip 'winkles'. But if you're looking for a liquid matte lipstick, I think this is a superb alternative as it's the most comfortable type I've ever tried (in comparison to Colourpop and Maybelline)
SHOP HERE
Hand Swatches
Here's a side-by-side swatch of all 5 shades. You can see the differences in texture among all of them. To recap, 4u2 is very creamy, BBIA Last Lipstick Blue Series has a powdery feel, BBIA Last Velvet Tint is a mousse texture, L'Oreal Paris has a watery ink texture, and A'PIEU is a pigmented liquid lip.
Long-lastingness
I was washing the hand swatches away with soap, and I realised most of them could come off except A'PIEU. So if you're looking for a long-wearing liquid lip, go for A'PIEU.