I have personally been practicing the Korean 10-step skincare routine for about 10 years now and after testing a number of different products for each and every step of my daily routine, I do have a set of requirements I'd like my products to meet. When it comes to everyday UV protection, I love to have several options like brightening i.e tone-up sunscreen for no-makeup days, primer-infused sunscreen for days I need to wear base makeup while outdoor and another would be sunscreens in convenient packaging like cushion-type or stick form for quick reapplications throughout the day.
With my U-zone; cheeks and chin area is currently dehydrated, I do prefer a creamy sunscreen to help with the dry, flaky skin I've been having along the area and lightweight, sebum-controlling sunscreen for my oilier T-zone. Thankfully, I have found the ones that I've been looking for in these sunscreens from my favourite AmorePacific brand, LANEIGE that basically caters to all of my skin needs. Now, let's get right into it!
Moisturising Sunscreen for Dry to Normal Skin
As I'm always testing new skincare products and incorporating actives (Vitamin C, AHA, BHA, etc) accordingly in my daily skincare routines, there are days that some part of my facial area becomes slightly sensitised due to intense formulations of certain products or simply product mismatched in my routines therefore I have to be well-prepared with soothing products that can tone down the redness along the area and gentle products that sort of buffer the dry area before becoming flaky which I'm going to treat with skin barrier-repairing products afterwards.
This is where LANEIGE Watery Sun Cream SPF50+ PA++++, a moisturising sunscreen comes to work for the dry area as it protects the skin well from harmful sun rays and retains the moisture level on skin very well which allows the damaged area to heal underneath during the day.
While the creamy texture of the sunscreen provides well-moisturised finish on the skin, there are times when I'd be needing boost of hydration especially around midday time so that's where Water Bank Moisture Mist comes to save my facial area from dryness.
Thanks to Sea Water, Squalane and Betaine contained in this facial mist, I can instantly hydrate my skin well as it adds a nice layer of plumpness to the skin while also refreshing my mood with its subtle scent.
Lightweight Sunscreen for Normal to Oily Skin
On regular skin days, I'd be all over LANEIGE Light Sun Fluid SPF50+ PA+++ as its lightweight consistency goes on well along my facial area without piling up even if I were to apply merely using my fingers. The sunscreen is indeed in fluid-like texture therefore can be applied effortlessly as it requires just a little bit of blending.
As I usually apply the sunscreen about 30 minutes before heading out in the morning, this gives me a nice, smooth, semi-matte finish and I'd simply apply translucent powder or makeup refresher mist on top to set everything in.
This LANEIGE Water Bank Hydro Mist has similar ingredients to its Moisture sister above but I just had to go for this one to complement the lightweight sunscreen above as it gives me just the right amount of hydration my skin needs without leaving tacky finish. Of course, the scent is kind of subtle and refreshing too and I'd be reaching out to this facial mist or Innisfree Green Tea Mist on regular skin days.
Cushion-type Sunscreen for Easy Reapplication
At this point of applying skincare on daily basis, it goes without saying that applying sunscreen on every single morning to finish off day skincare routine is an absolute must but reapplication throughout the day is just as important especially when I'm spending hours outdoor. As I don't carry a whole bottle of sunscreen in my bag, I would prefer to have it in a much more convenient packaging that includes the product and appropriate applicator for quick reapplication.
With this LANEIGE Marshmallow Sun Cushion SPF50+ PA+++ that comes with 10g worth of product in a cushion case with mirror and air puff applicator, I just need to wipe off my facial area with face tissue or gently remove everything with no-rinse micellar water and reapply my sunscreen right on the spot. The Mesh in the case separates the product and applicator which allows sufficient amount to be picked up by the air puff as I press it. For hygienic reason, I regularly wash the air puff and properly sanitise the case as I bring it everywhere with me.
Thanks to the air-puff that comes with the Sun Cushion, I do prefer to use it a lot more especially on super sensitive skin days so I always carry this Innisfree Bija Cica Mist to apply throughout the hours of the day. This facial mist contains centella asiatica along with Bija which is known for its acne-treating properties so this is great for those with acne-prone skin or dehydrated oily skin like myself.
In this new norm where I rarely apply base makeup like foundation while merely focusing on applying UV protection, I've been all over watery makeup remover and this LANEIGE Perfect Makeup Cleansing Water is not only generous in amount of product but also works really well at removing not only my sunscreens but also my point makeup of the day. I've decanted a small amount of the micellar water into a small bottle so I can slip it easily into my daily bag to be used in my midday skincare routine.
So there you have it, the sunscreens that I've been indulging myself with different textures and finishing to suit my daily skin concerns; from application to removal with complementing types of facial mist that go well with the product itself. Keep protecting your skin from the harmful sun rays and stay safe!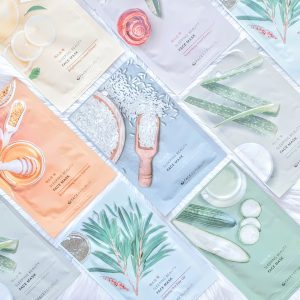 Review
If you're following me on social media like Instagram then you probably noticed that I am such a #sheetmaskjunkie and I do at least use
Read More »