Ok so I wanna start by saying that pimple patches give me the impression of being slightly useless and gimmicky. However, I recognize that I have decent enough skin and don't know the pain of having serious acne. That said, for some reason, I'd been curious to try this particular pimple patch. Could be because I already have a positive opinion of other Cosrx products?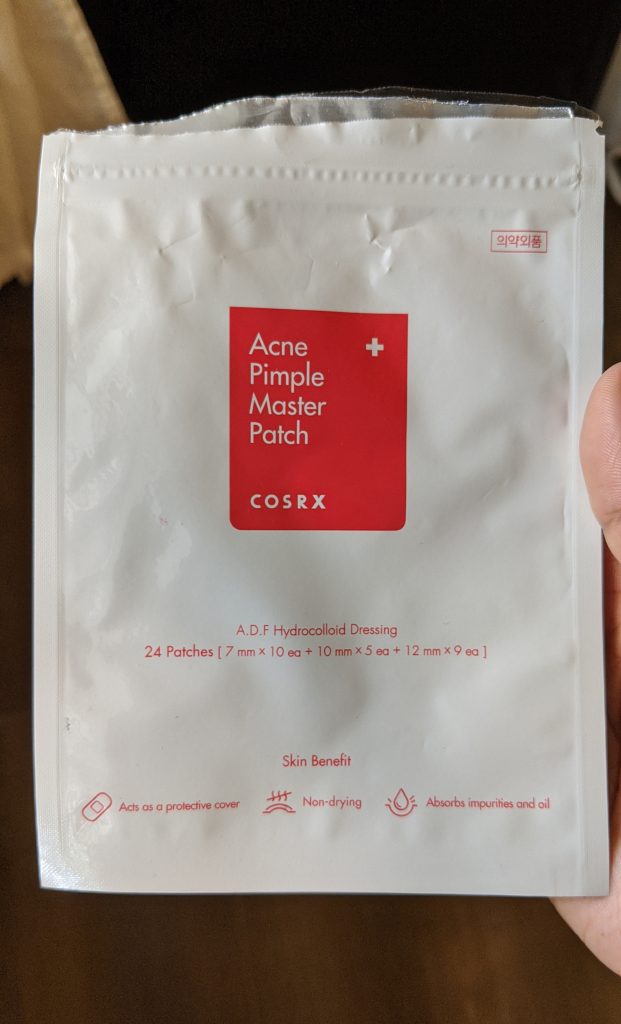 This is my first time trying any pimple patch so let's see:
Just in time for this review, I got a large angry pimple on my forehead. Ugh. Let me show you how it looked in all its glory.
This patch is very adhesive. You need to aim carefully when applying coz you don't really want to pull it off and reapply if you miss. I learnt this the hard way the first time I tried these patches haha! Following the instructions, I cleaned the area and tried to place the patch in the center (failing, as you can see).
I left it on overnight. Here's how it looked the next morning:
I used three patches over 2 days and took some additional photos days later:
Thoughts:
Useful for keeping a pimple clean and protected from dirt. For eg., if I'm playing with soil in my garden. In that sense, it becomes a useful option. For this forehead pimple, I was at a wood workshop with sawdust flying everywhere. Definitely felt protected with the patch on since it had already popped and was open for business.
I like that it's not really visible unless you're really close up in my face (but social distancing, eh, woohoo!)
I'm not entirely convinced that it does anything much other than protect from outside dirt and give you a bit of medicated juice to make you feel like you're trying. =D
My Verdict:
I would use this for large or painful or angry pimples
I would use this when I know my surrounding is extra dirty or dusty or I'm at risk of making things worse.
Would buy again for those one-off days, but for now this current packet is still only halfway used since there are 24 patches.
Definitely not a necessary skincare product but "it's nice to have on hand".
SHOP HERE
Cosrx Acne Pimple Master Patch