Largely due to stress, my skin has been quite dry and dehydrated lately, so after applying some basic skincare steps and noticing it might need an additional moisture and hydration boost, I decided to try this mask from Ariul to see if it would actually help to "calm and restore [my] overworked skin". Did it work? Let's find out.
PRODUCT DESCRIPTION:
FULL INGREDIENTS:
Water, Cetyl Ethylhexanoate, Glycerin, Butylene Glycol, Cyclopentasiloxane, Cyclohexasiloxane, Polysorbate 60, Bambusa Vulgaris Water, Anthemis Nobilis Flower Water, Lavendula Angustifolia (Lavender) Flower Water, Nelumbium Speciosum Flower Extract, Cetearyl Alcohol, Polyacrylate-13, Polyisobutene, Polysorbate 20, Carbomer, Tromethamine, 1,2-Hexanediol, Propanediol, Caprylyl Glycol, Illicium Verum (Anise) Fruit Extract, Chlorphenesin, Phenoxyethanol, Disodium EDTA, Fragrance.
VOLUME:
20g / 0.7 oz. x 1 sheet
PACKAGING:
Thin, white plastic packet with an interesting and unique front cover design akin to a newspaper or magazine article which you can actually read to know further about the mask!
There are both Korean and English details on the back of the packet, denoting an overall description, directions and the list of ingredients.
HOW TO USE:
Cleanse and apply toner.
Open the pouch, pull out the mask, and place it on your face, align eyes and nose areas first.
Remove the mask after 15-20 minutes and gently pat leftover ampoule for complete absorption.
SCENT:
Soft, sweet floral notes with mild herbal influence. Not that strong, but does linger throughout masking.
ESSENCE TEXTURE/FINISH:
To be honest, I was expecting a watery essence due to the "bamboo water" but instead, this mask has an essence with a light, white milky consistency that absorbs easily into the skin. Not much essence left in the packet after use.
MASK TEXTURE/FIT/ADHERENCE:
Thin, soft and smooth Tencel material made from naturally sourced Eucalyptus. Does not come with a mask backing, but it's easy to take out of the packet and unfold, so no worries.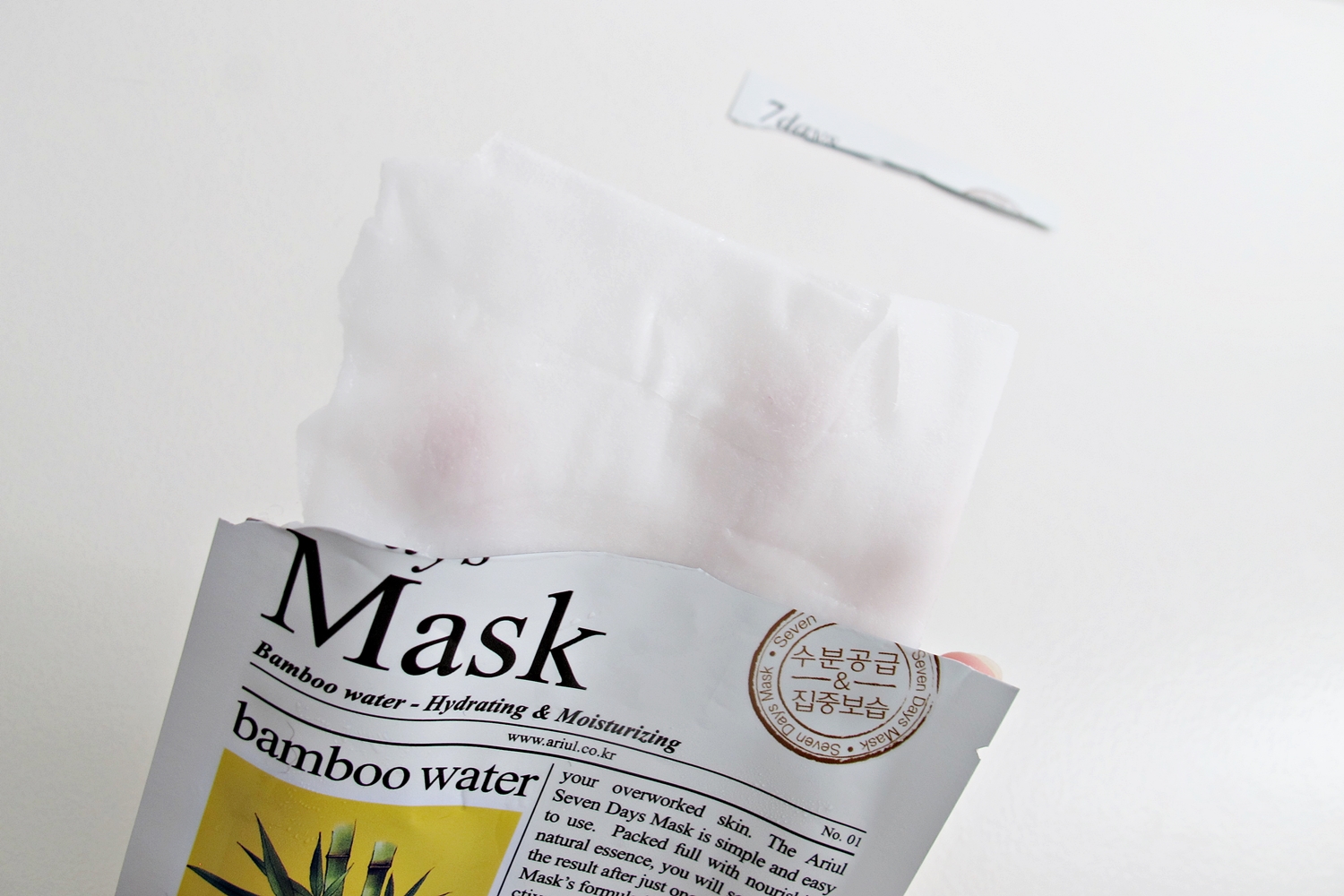 Adheres to the skin easily with no risk of slipping. Material is quite stretchy, and easy to adjust to better fit facial contours without worrying about accidentally tearing the mask.
MY SKIN TYPE:
Sensitive (prone to redness and irritation), combination-dry, acne-prone and dehydrated.
OVERALL THOUGHTS & EXPERIENCE:
Although I did not find the mask to be drenched with essence as I would expect of a mask that claims to both hydrate and moisturise tired skin, I'm actually pleasantly surprised by how nourished my skin feels after use! While I still feel some dryness peeking through, it has worked well to provide some balance to my skin's chronic tightness.  Plus, it provided some surprising brightening benefits too.
I also enjoyed how light the mask felt on the skin while masking, and if you've left it to cool in the fridge before use, the extra soothing benefits will definitely be amplified. All in all, it's a good mask to have on hand, but it's not a total showstopper either as I've found better post-mask results elsewhere. Definitely worth a try, though! Especially if you need a non-tacky moisture boost for a morning mask session!
MY RATING:
4/5
SHOP HERE