I love to try various shower gels and cremes especially the ones with an amazing scent. I'm also looking for a product that won't leave me with drier skin after shower. Just in time as I finished my old shower gel, I saw Hermo put this shower creme on sale. I just bought it because I saw the word infused with oil. I know this will give me enough hydration and moisturizing feeling on skin. So, do I love it? Keep on reading guys!
Product Description
Let the velvety soft lather of this oil infused shower cream nourish your skin with every shower. Containing argan oil pearls, known for their moisturising properties, this indulgent shower cream lathers to leave your skin feeling soft and moisturised, whilst a delicate and fresh scent of Ylang-Ylang indulges your senses. For gentle cleansing and a touchably soft skin feel.
💞 Luxurious shower cream with a velvety soft lather
💞 Enriched with Argan Oil Pearls, known for their moisturising properties
💞 With fine oil pearls filled with nourishing sunflower oil
💞 Leaves skin feeling touchable soft and smooth
Ylang Ylang is 'Bunga Kenanga' in Malay language. Yellowish flower that is usually used in aromatherapy.
Ingredients
Aqua, Sodium Laureth Sulfate, Cocamidopropyl Betaine, Acrylates Copolymer, Citric Acid, PEG-7 Glyceryl Cocoate, Argania Spinosa Kernel Oil, Helianthus Annuus Seed Oil, Glycerin, Glyceryl Glucoside, PEG-40 Hydrogenated Castor Oil, Sodium Chloride, Polyquaternium-7, PEG-3 Distearate, Mannitol, Sodium Lauryl Sulfate, Microcrystalline Cellulose, PEG-200 Hydrogenated Glyceryl Palmate, Sodium Benzoate, Linalool, Limonene, Geraniol, Citronellol, Benzyl Alcohol, Benzyl Salicylate, Parfum, CI 77492
Product Origin
Made in Germany
Volume
250 ml
How To Use
Simply squeeze a small amount of the body moisturizer onto hands and lather, then massage into wet skin for deeply nourished skin.
Packaging
The packaging looks lovely. It comes in a flat oval bottle packaging with a flip lid. The whole packaging is very sturdy and travel safe. Just make sure to seal the upper lip. The bottle is so pretty, dark blue color – Nivea trademark color with dreamy picture of blueish flower with Ylang Ylang label.
Texture
The shower creme is white in color with tiny yellow oil pearls. The texture is creamy and comfortable to use. The oil pearls are very soft, I thought it was an exfoliating beads at first but it is not. The oil pearls are very small (smaller than mustard seed) and melt off when they come in contact with skin. This creme easy to lather up into a rich velvety foams especially when I use loofah.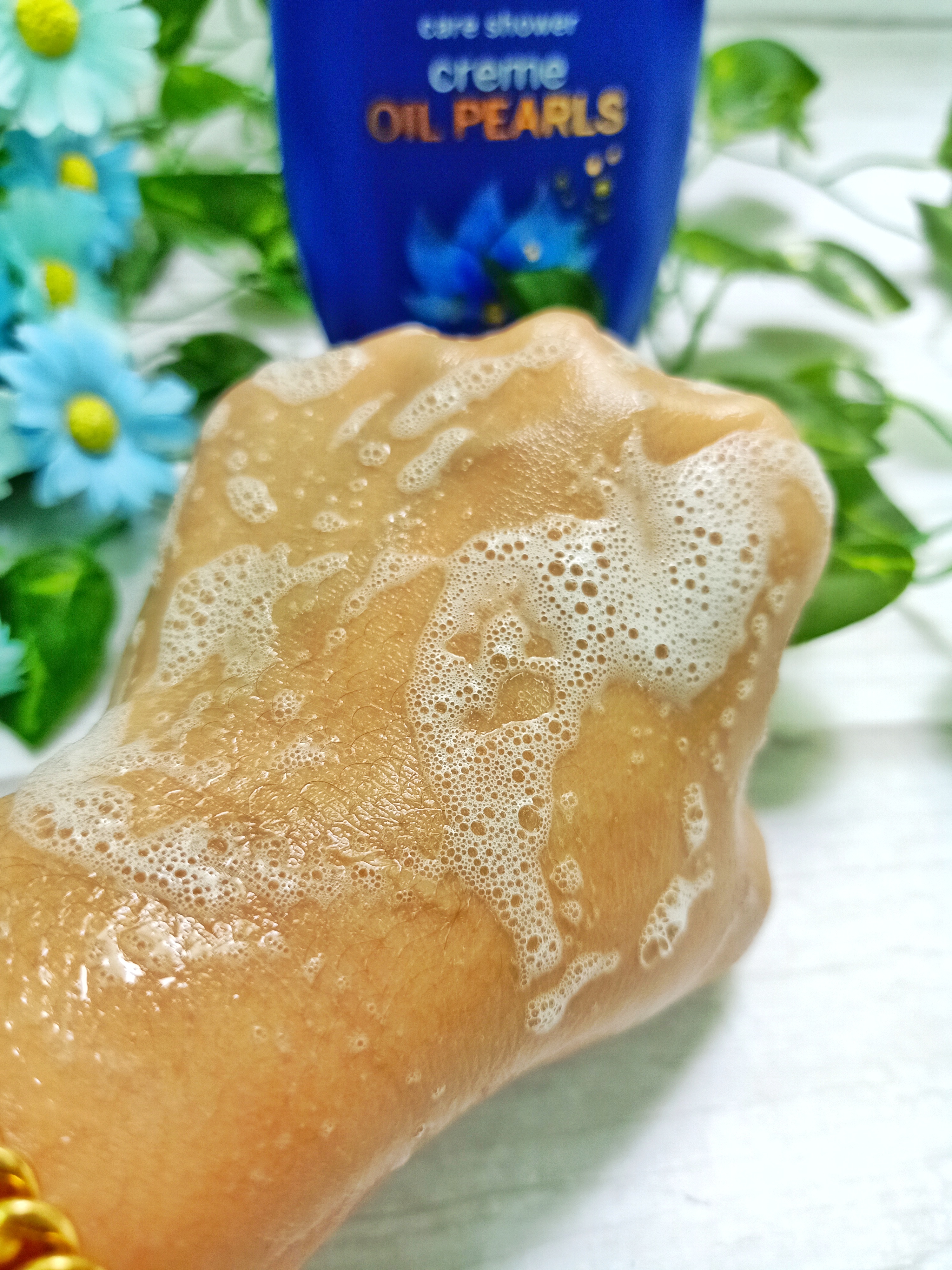 Scent
Ylang Ylang also smells so good, quite flowery, but at the same time, very fresh and exotic. It's not overwhelming and quite pleasant. The scent is more relaxing than something that will make my head dizzy.
My Experience
By the time I reviewed this, I already finish my first bottle. I bought 4 bottles of this shower creme: 2 Ylang Ylang and another 2, Cherry Blossom. I am a shower person so I do love use this shower creme with loofah for optimum lather.
This creme lather up to a velvety foam that is so soft, smooth and feel nice on skin. The tiny pearl melts once it touch my skin. The scent is so relaxing and I really love Ylang Ylang scent.
I can feel my skin is so soft, clean and smooth. The mild scent lingers for awhile and I don't need to apply any perfume afterwards. Overall, this shower creme is great for me. I can't wait to open the Cherry Blossom after this.
Rate
4/5
Where To Buy