Working from home has its perks and one of them is being able to do my midday routine however long or short depending on my schedule on the day. Having conveniently packed products like exfoliating pads, toner pads, facial mists, bubble foams helped a lot on a busy day.
Now this Real Fresh Cleansing Stick in Green Tea from South Korean brand NEOGEN Dermalogy has been around for quite awhile but I've only got my hands on this product recently as I haven't found a local reseller that carry it until Hermo Global made it available. The idea of a cleansing stick was quite peculiar at first but after using this product in my daily skincare routine for months, I'm loving how convenient and gentle it is so do read on if you're curious too!
High points of this cleanser!
Formulated with naturally derived ingredients and real green tea leaves to deep clean clogged pores.
Green tea seed oil provides the skin with moisture to prevent dryness after cleansing.
Supposedly can help removing light makeup and cleanse the skin well in a single step.
Great for daily use.
How to use: 
Open the lid and twist the bottom to the right.
Apply the product directly onto wet skin and gently massage in a rolling motion.
Rinse well with lukewarm water.
After using, rinse off the excess on the stick with running water. Place in dry area.
Glycerin, Water, Cocos Nucifera (Coconut) Oil, Palmatic Acid, Stearic Acid, Lauryl Betaine, Betaine, Camellia Sinensis Leaf (0.3%), Camellia Sinensis Seed Oil (0.1%), Camellia Japonica Seed Oil, Olea Europaea (Olive) Fruit Oil, Helianthus Annuus (Sunflower) Seed Oil, Limnanthes Alba (Meadowfoam) Seed Oil, Oenothera Biennis (Evening Primrose) Oil, Citrus Aurantifolia (Lime) Oil, Ocimum Basilicum (Basil) Oil, Cananga Odorata Flower Oil, Citrus Limon (Lemon) Peel Oil, Origanum Majorana Leaf Oil, Citrus Aurantium Dulcis (Orange) Peel Oil, Tocopheryl Acetate, Sodium Chloride, Fragrance.
The product came with a box with such a simple yet lovely designed as with other products from the brand. There's ample product description printed on the box itself along with the ingredients list in English for your reference.
There's also Distributor sticker on the box so I'm not worried about the authenticity of the product.
The stick cleanser comes in an sleek, medium, cylinder, almost transparent, plastic and twisting  container with sufficient English product description printed on the packagin for your quick reference.
There's the Expiry Date stated on the Korean product description side in the format of YYYY.MM.DD.
As you can see above, the cleanser is in that beige, cylindrical form with pieces of real green tea leaves and that's all much product all twisted up; not to worry as you can simply twist it down for sure although do not twist the stick to the left more than you should to avoid the container being malfunction. 
So the cleanser goes on white, melts just nicely and as I mix it further with more water, it lathers up slightly with the foam being so gentle on skin. This cleanser is easy to rinse off in a sense that it is not too soapy therefore it takes less time and water.
It has a fresh scent to it so it doesn't bother me much although looking at the ingredients list, there are lots of different oils in the product so I don't think this is suitable for oily skin people and those who have fungal acne as there are several triggers (bold in the ingredients list above).
Knowing that this cleanser's star ingredient being green tea that's known for its moisturising properties, I've been using it in my morning and midday skincare routines. After using this cleanser for more than couple of months, I simply love how it's working greatly as it leaves me with clean, smooth finish and definitely no dryness at all.
I actually tried this stick cleanser on its own to remove chemical sunscreen before and I do think it works nicely as I don't see any residual left on my cotton pad (toner step) afterwards but I'd still remove my physical sunscreens that tends to adhere quite strongly on skin with oil-based cleanser in my double-cleansing routine.
While this cleanser doesn't further irritate my redness-prone area, it doesn't help with toning down the sign of irritation either; although I wasn't expecting anything but at least the flaky area become slightly smoother thanks to the gentle exfoliating effect. At this point, I do still rely on gentle acids in skincare to help with removing my dead skin cells; avoiding abrasive facial scrubs even peeling gels.
Do make sure to properly rinse the cleanser off with running water after using it to avoid build ups along the stick, twist it down and place the cap before putting it away after each use.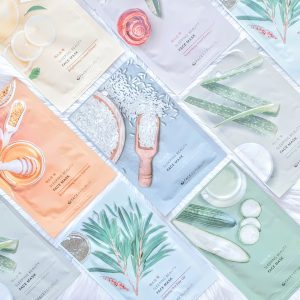 Review
If you're following me on social media like Instagram then you probably noticed that I am such a #sheetmaskjunkie and I do at least use
Read More »