This shower gels simply reminds me of the one I used before from The Body Shop. Everything from Body Shop is either very fruity or very strong in floral scent. This is something newly launched from Nivea, but I guess not every drugstores has it. I got mine from Guardian, but now you can easily purchased it through Hermo too! 
I find it quite special for watermelon mint shower gel and yeah that's the reason why I purchased it and share my reviews with all of you. Did you know watermelon consists of 97% of water? Watermelon is full of antioxidants such vitamin C and A which helps in reducing radicals that can slow down the signs of ageing. Not just our face, but our body skin also need to be taken care to slow down the signs of aging! The combination of watermelon mint and plant-based milk make it a perfect combination for a shower gel that helps in hydration for our skin.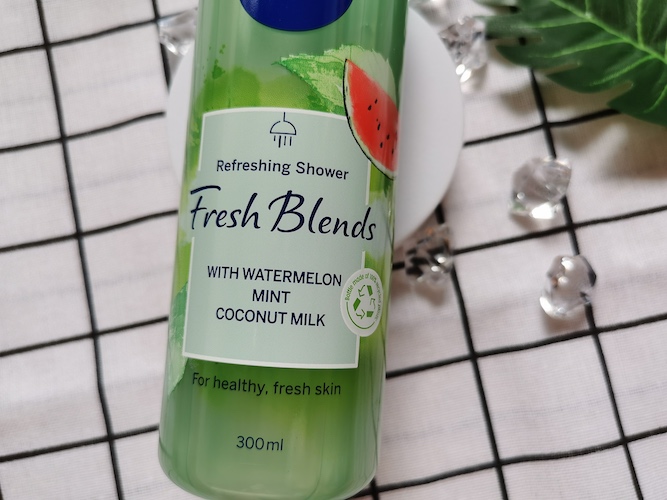 Surprisingly the bottles are made from 100% recycled plastic. I always love companies that emphasize on sustainability and how to reduce our impact on the environment. I'm a person that likes to go green most of the time and I use my own containers when it comes to take away food. Wait……. Not only that the vegan formula that Nivea used for their ingredients is totally vegan too! Which means no animal or animal-derived ingredients.
How to use:
Lather body wash gentle all over body
Rinse off with water
Suitable for everyday use
My opinion:
Among all the 3 flavors, I still love this one the most. As the scent is not too fruity at the same time not overpowering. It does left some scent lingering around my body but it does not feel sticky nor oily after that. In fact, I could feel it was way too lightweight, totally so refresh after my shower. The price to be honest not really affordable for such small bottle of 300ml, but its worth a try if you want to. 
Obviously for this size totally not suitable for travel unless you check in your luggage. To me, this is still a good product and 5 stars for it. If you were asked me if I would repurchase, maybe a NO. Because its not economy to use if I would to use it daily for household and it actually doesn't have any special effect on my skin, just an ordinary shower gel to me.
Full ingredients:
Aqua, Sodium Laureth Sulfate, Cocamidopropyl Betaine, Coco-Glucoside, Prunus Amygdalus Dulcis Oil, Rubus Idaeus Juice, Vaccinium Myrtillus Fruit Extract, Aloe Barbadensis Leaf Juice Powder, Glycerin, Citric Acid, Glycol Distearate, Laureth-Chloride, Sodium Hydloride, 4 , Xanthan Gum, Cetearyl Glucoside, Glyceryl Stearate SE, Sodium Polynapthalenesulfonate, Denatonium Benzoate, Sodium Benzoate, TrisodiumEDTA, Phenoxyethanol, PotassiumSorbate, Benzoic Acid, Dehydroacetic Acid, Ethylhexylglycalalin, Benzyl CI 12490
*Please refer to the ingredients list on the product packaging for the most accurate list of ingredients