In Southeast Asian countries, lime specifically kaffir lime is often used in our variety of cooking. We often have it as a refreshing hot or cold lime drinks too. Limes are often sour or bitter in flavour, although some varieties are sweet, and while they are similar to lemons, they are generally more acidic. Lime, just like lemons are full of vitamin C and antioxidants, which can be helpful to tackle hyperpigmentation issue and evening your skintone
But I thought we can't use citruses on the skin?
Well NOT by rubbing a real lime or lemon that's for sure! In skincare they are carefully formulated by the chemists at the right dosage compared to a real fruit which to each fruits may contain different amount of chemicals in it. Even so, each skin's tolerance is different, it is highly-suggested to patch test before using skincare products especially if you have sensitive skin!
Quite interesting right? Hence why I picked Innisfree My Real Squeeze Mask [#Lime] to review today. Let's get on to it!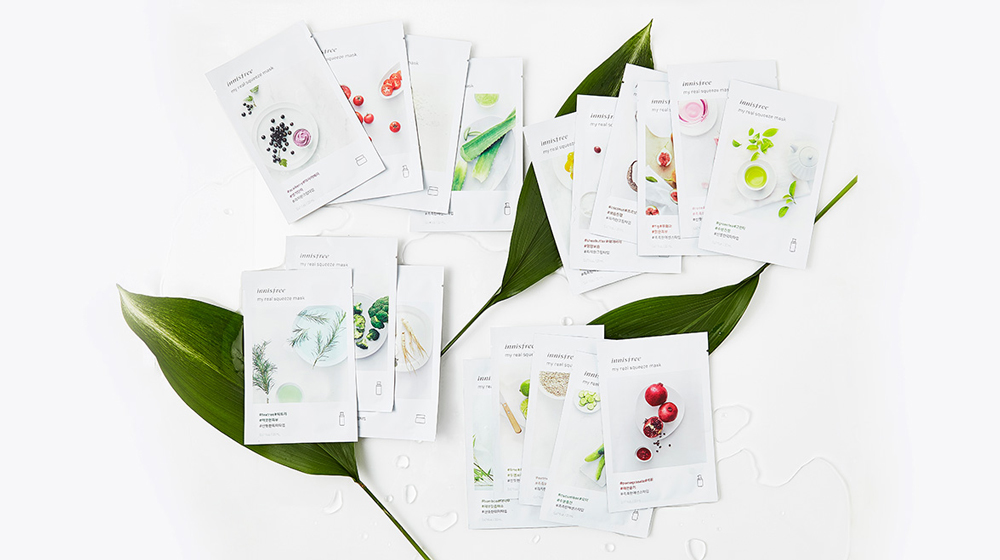 This refreshing water-type real mask, enriched with moisture from fresh limes, leaves the skin looking bright and transparent
WATER/AQUA /EAU, GLYCERIN, DIPROPYLENE GLYCOL, NIACINAMIDE, BUTYLENE GLYCOL, CITRUS AURANTIFOLIA LIME JUICE, BETAINE, PANTHENOL, XANTHAN GUM, 1,2 – HEXANEDIOL, PEG – 60 HYDROGENATED CASTOR OIL, GLYCERYL CAPRYLATE, CENTELLA ASIATICA EXTRACT, ALLANTOIN, ETHYLHEXYLGLYCERIN, DISODIUM EDTA, DIPOTASSIUM GLYCYRRHIZATE, PAEONIA SUFFRUTICOSA ROOT EXTRACT, CHAMOMILLA RECUTITA (MATRICARIA) FLOWER EXTRACT, PANTOLACTONE, CITRUS AURANTIFOLIA (LIME) OIL , SODIUM HYALURONATE, LIMONENE
NIACINAMIDE is wildly use in skincare products due to its multi-benefits for skin such as minimizing enlarged pores, tighten lax pores, improve uneven skin tone, soften fine lines and wrinkles, diminish dullness, and strengthen a weakened skin barrier
CITRUS AURANTIFOLIA LIME JUICE frequently reported to function in cosmetics as fragrances and/or skin conditioning agents. The citric acid found in limes helps remove dead skin from your face to reveal a smoother and brighter-looking skin
PANTHENOL is great humectant, great for those with dry skin. It helps to promote skin healing by enhancing cell growth. It'll binds with water and enhance hydration, making your skin feels smoother and supple
Fit : 3.8/5
The fit is not my best because personally I think the eye hole is a bit stretched to the side and upper-mouth piece is a bit too wide for my face
Material : 4/5
Thin sheet mask made of eucalyptus pulp, feels really comfortable on the skin
Adherence : 3.5/5
Sticks pretty nicely on the skin, easy to smooth out the bubbles. May lift a bit on certain area
Scent : 4/5
Very refreshing lime scent
Texture : 5/5
The essence is clear and watery, absorbs almost instantly into the skin
Recommended Skin Types
For all skin types 
Recommended time : 10-20 minutes
Dehydrated-combination, oilier on nose and cheek area. Prone to redness and mild acne.
I'm so so in love with how thin this sheet mask is, almost transparent and very tissue paper-like 😍 I have to admit it does feel like it would tear if I'm not careful with it but surprisingly the material didn't shred apart when I was adjusting it on my face. The fit isn't the best for my skin but I'm okay with it. The essence is runny and very watery, has a very refreshing lime scent which I personally love. The essence is lightweight and I can feel my skin thirstily absorbing it with ease 💧 No irritation or discomfort was felt during my masking sesh
After a good 15 minutes, I can feel area at the edges of nose and chin started to dry up. My forehead area was getting dry up too but my cheek area is still pretty damp. I took it off and pat in the remaining essences. It gives a moist finish at first but after a while all the essences are fully absorb leaving no greasiness or tackiness. The after-effect feels so cool and refreshing and I can see my skin is very well hydrated. My skin looks calm and smooth, I love how it helps reduce the size of my pores round my cheeks area, effectively blurred them 🥰
Overall my skin looks healthy and awake, like after a good cup of coffee in the morning 
I would definitely repurchase this as I super love watery and non-sticky essence, not to mention it is pretty affordable and always on sale on HERMO and this just check all the boxes for me. This sheetmask is also free of fragrance so if you're not sensitive with Lime oil, do give this one a try 
Friendly reminder 
You and me must at least once in our lives have seen so many videos of homemade DIY skincare consist of lemons or limes. If you're thinking of doing it or have been doing it right now, please consider to stop immediately as you're potentially harming and irritating your skin further. Due to their acidic compound, it might have ruining your skin barrier and potentially end yourself with serious blistering burns and photosensitized skin. It's never too late to stop and learn better :)
✨ Always listen to your skin ✨
P/s: All opinions and thoughts are based by my experience and solely mine.