Over 100 years ago, Nivea introduced modern skin care to the world with NIVEA Creme. Today, millions of people all over the world, with different types of skin, rely on the NIVEA brand. Nivea have developed various innovative skin care products over the past few decades – from deodorants to sunscreen products. Nivea also works with over 50 institutions around the world to ensure that all products are suitable for your skin, so that one day everybody in the world can place their trust in NIVEA products.
Product Description
The delightful & refreshing 98% biodegradable formula is lovingly blended with naturally derived ingredients, fruit extracts & plant based milk. Bottle made from 100% recycled plastic, helping to reduce impact on the environment.
– 98% biodegradable formula
– 90% naturally derived ingredients
– Vegan formula – no animal or animal derived ingredients
– Bottle made of 100% recycled PET plastic
Variants
🍑 Apricot Mango – Refreshing shower with Apricot, Mango & Rice Milk.
🍇 Raspberry Blueberry – Refreshing shower with Raspberry, Blueberry & Almond Milk.
🍉 Watermelon Mint – Refreshing shower with Watermelon, Mint and Coconut Milk.
Ingredients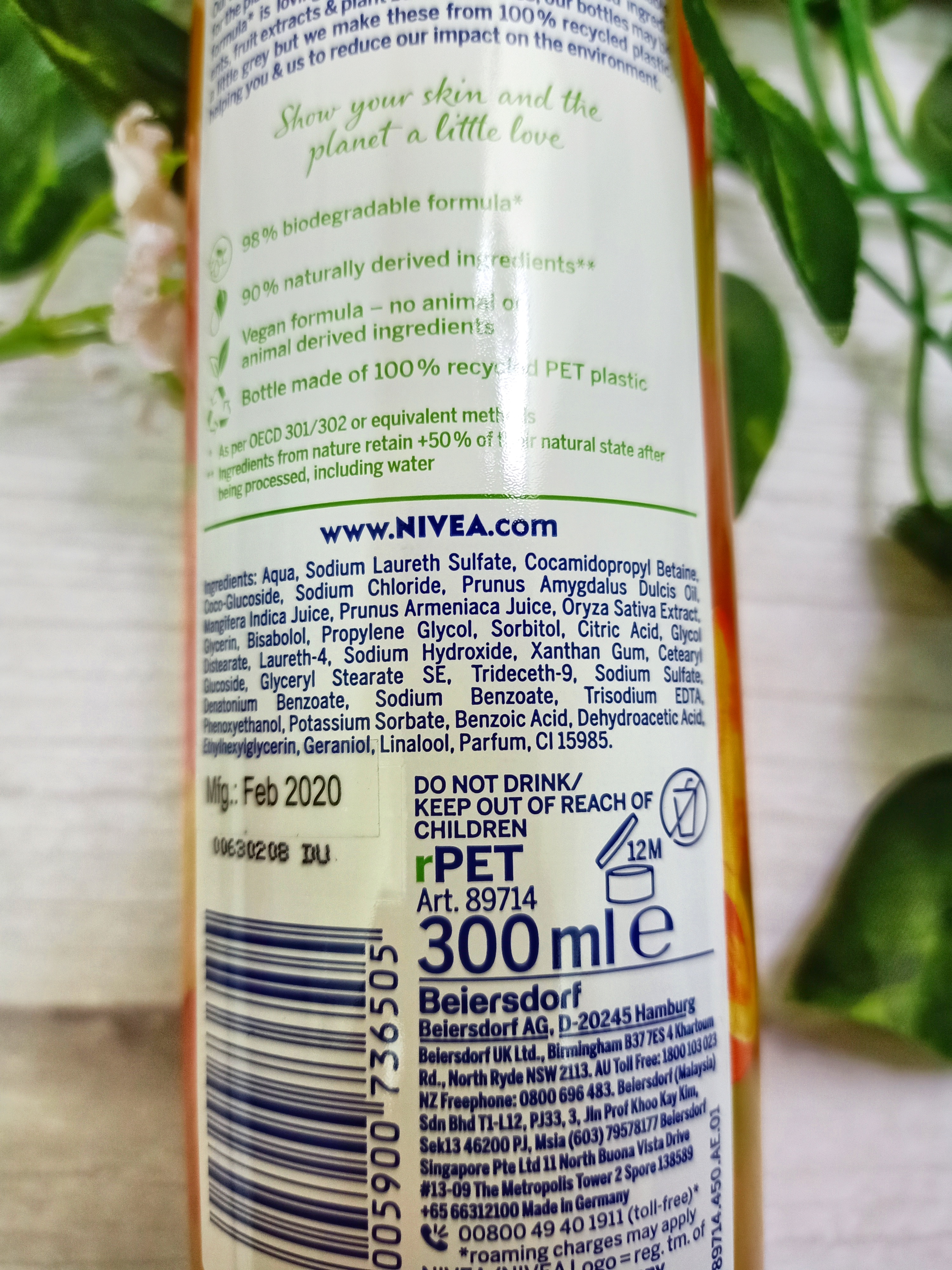 Aqua, Sodium Laureth Sulfate, Cocamidopropyl Betaine, Coco-Glucoside, Sodium Chloride, Prunus Amygdalus Dulcis Oil, Mangifera Indica Juice, Prunus Armeniaca Juice, Oryza Sativa Extract, Glycerin, Bisabolol, Propylene Glycol, Sorbitol, Citric Acid, Glycol Distearate, Laureth-4, Sodium Hydroxide, Xanthan Gum, Cetearyl Glucoside, Glyceryl Stearate SE, Trideceth-9, Sodium Sulfate, Denatonium Benzoate, Sodium Benzoate, Trisodium EDTA, Phenoxyethanol, Potassium Sorbate, Benzoic Acid, Dehydroacetic Acid, Ethylhexylglycerin, Geraniol, Linalool, Parfum, CI 15985
Product Origin
Made in Germany
Volume
300 ml
How To Use
WET YOUR SKIN
Take a shower and wet your skin thoroughly. For optimum lather, use it with a loofah.
APPLY
Apply the shower gel to your whole body
MASSAGE
Massage the shower gel into your skin
RINSE
Rinse the residue off thoroughly before patting yourself dry
Packaging
Nivea Fresh Blend Refreshing Shower Cream comes in transparent cylinder biodegradable bottle with a flip cap. It has a nice apricot design on the label. Really catches my eyes.
Texture
It has a orangey gel-like texture that lathers into a rich foam especially when I use with a loofah.
Scent
This shower smells lovely. Very fruity like a fresh smoothie, the combination of apricot, mango and to me it also has a mild scent of guava. The scent linger for a long time on my body.
Experience
I always dreamt about this scent and I really love apricot and peach scents. Nivea Apricot Fresh Blend Refreshing Shower Gel always blown me away. I am so happy with the scent and I can't wait for my next shower time.
It produce a lot of foam and covered my whole body. After rinsing, my skin feel so soft and moisturizing. I'm so glad that this shower cream didn't dry out my skin.
I just hope Nivea produce bigger sized bottles with a pump because I really love this shower cream and I don't want it finish so soon.
This shower gel is my Holy Grail. I will definitely keep repurchase this.
Rate
5/5 Full marks from me. Nivea never disappointed me.
Where To Buy