TIA'M is a Persian word that translates to "a twinkle in your eye when you see someone for the first time" and I guess this is what Ti'am tries to achieve when people experience their products. Even though the brand name is a Persian word, the brand is Korean-owned and based. Their original brand name was O.S.T C20, and when their Vitamin C serum became an instant hit, TIA'M recently rebranded with a name that reflects the beauty their products reveal. Source: medium.com
My first Ti'am product is Hyaluronic Acid Serum, second is Vita B3 Serum, and the third one is this Vita A Anti-Wrinkle:
I love that as a moisturiser, it comes in a pump tube packaging which I find really hygienic and not messy. Much much better than in a jar!
Ingredients
Water, Butylene Glycol, Glycerin, Helianthus Annuus (Sunflower) Seed Oil, Cetearyl Alcohol, Dimethicone, 1,2-Hexanediol, Betaine, Hydrolyzed Collagen, Retinyl Palmitate, Tocopherol, Arachis Hypogaea (Peanut) Oil, Cetearyl Olivate, Sorbitan Olivate, Polysorbate 60, Panthenol, Ethylhexylglycerin, Tocopheryl Acetate, Allantoin, Hydroxyethyl Acrylate/​Sodium Acryloyldimethyl Taurate Copolymer, Ribes Nigrum (Black Currant) Fruit Extract, Yeast Extract, Lactobacillus Ferment, Xanthan Gum, Fragrance, Adenosine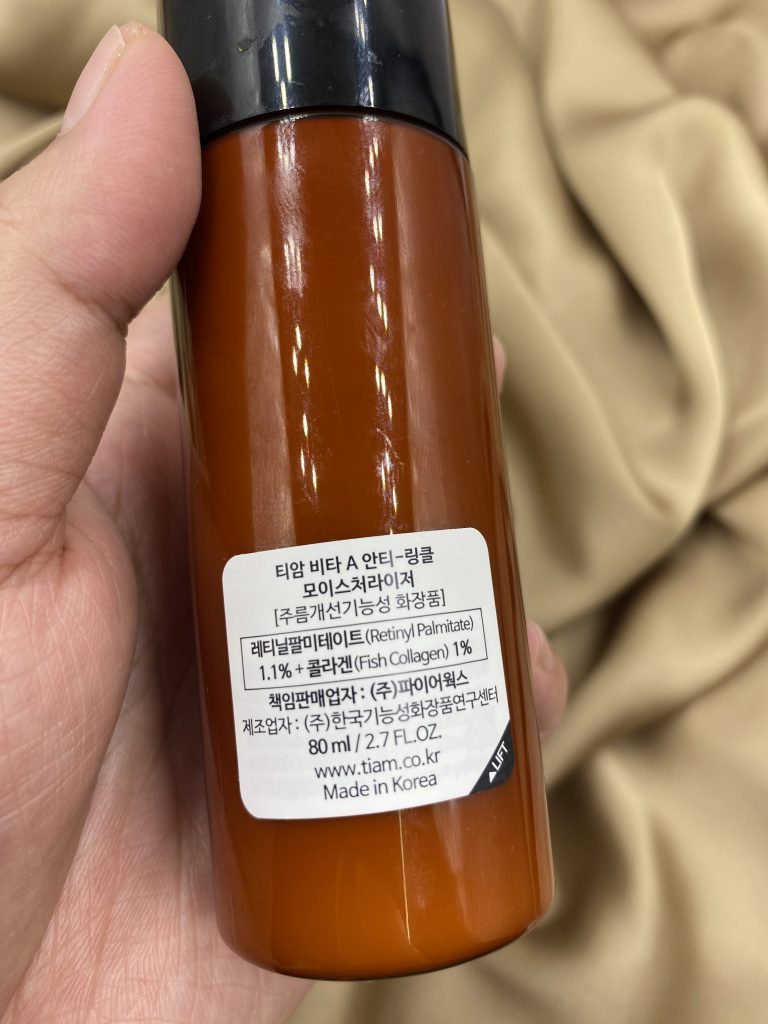 This contains vitamin A in its ester form which is retinyl palmitate, a stable form of retinoid family and also a great anti-aging ingredient. It is 1.1% in strength, and is probably balanced by 1% fish collagen and other soothing ingredients which are panthenol, allantoin, and lactobacillus ferment. There are also a lot of moisturising ingredients which are: butylene glycol, glycerine, betaine, panthenol, and yeast extract. However, note that this has dimethicone among the top ingredient (in case your skin can't tolerate this).
Texture and Smell
This moisturiser comes in a yellowish texture that feels a lot like water cream – it feels like it melts upon touch and absorbs quickly.
It also feels so light and not that viscous so it doesn't feel heavy on the skin. It also has great spreadability and feels a bit emollient?
The finish for me is not so dewy but not so matte. Love it! It doesn't make my skin greasy too. Other things worth noting is that it is not sticky and leaves no filmy residue.
Experience
I have been using chemical exfoliators or actives since 2017 but I am new to retinol so I love that this moisturiser uses retinyl palmitate in its formulation as it is a stable vitamin A derivative. Therefore, if you're new to retinol like me, this is a great product to start off with. Besides it is a moisturiser and not retinol toner or serum.
After patch testing, I started slow with this one, by incorporating it not too frequent at first and not using actives in the same routine, though I do use AHA BHA products together with this moisturiser after a week of using this exclusively but that's my skin. Note that our skins are different so you need to monitor any changes and always listen to your skin.
I have no problem using this whether in the morning or at night as it is not sticky or greasy and the moisture provided is sufficient to my combination skin. If I need extra hydration or moisture at night then I would add a hydrating toner or essence or ampoule before. I can see this working on oily skin peeps but might not be enough for dry skin so you might wanna finish with a face oil or use it in the same routine as hydrating/moisturising toner or essence.
Example of one of my night skincare routines (above) and my morning skincare routine with this Ti'am Vita A Anti-Wrinkle Moisturizer (below).
I am so glad that I experienced no irritation or purging or breakout or heating or stinging sensation with this one. So so glad that there's no bad reaction so I can proceed with using a more serious retinol in the routine now that I am 31. After using this for more than a month I can definitely tell that my skin is softer, smoother & a lot plumper so yes I can see this helping to improve my skin texture and elasticity in the future. There is no stark difference yet but I think this moisturiser does what it is supposed to do and I am happy to continue using this as a part of my anti-aging regime.
My rate: 4.5/5 for now, might be more in the future
Would I repurchase? Well of course!
SHOP HERE
Tiam Vita A Anti-Wrinkle Moisturizer