I'm pretty sure that a lot of you already know about having gentle acids in skincare like Alpha-Hydroxy-Acid (AHA) and Beta-Hydroxy-Acid (BHA) can help with removing dead skin cells and improving skin conditions from deep within. If you haven't start adding these great exfoliating ingredients in your skincare routine, you might want to start now especially if you're age over 30 like me and in need of a booster to your whole skincare routine.
Of course, you need to build up the intensities of these kind of ingredient in your routine by monitoring its concentration and how your skin reacting to the products; slowly work your way through like my skin can tolerate AHA and BHA at maximum 5% and less than 1% respectively. Now, this AHA/BHA Toner from South Korean brand Face Republic is one of their #preptrio skincare line which in my opinion is great for beginner when it comes to exfoliating skincare products.
What's to Know about this Toner:
Skin-clearing toner that gently strips away dull and rough skin, targets pore and preps your skin.
Formulated with:
Salicylic Acid & Lactobionic Acid – gentle exfoliates skin without irritation.
Sodium Hyaluronate – gives skin that plump and elastic feel, which also is known for its amazing water-holding capacity
Tocopherol (pure vitamin E) – antioxidants which protect your skin from free radicals
Supposedly suitable for all skin types and formulated without Alcohol, Paraben, Benzophenone, Chlorphenesin and Fragrance.
How to Use: Apply on a cleansed face with cotton pads. Gently wipe the facial area from inwards to outwards.
Capacity: 160ml – About 3 to 4 months of daily usage.
Water, Methylpropanediol, 1,2-Hexanediol, Glycerin, Pentylene Glycol, Propanediol, Chondrus Crispus Extract, Saccharum Officinarum (Sugarcane) Extract, Panthenol, Ethylhexylglycerin, Disodium EDTA, Sodium Citrate, Xanthan Gum, Allantoin, Citric Acid, Sodium Hyaluronate, Lactobionic Acid, Salicylic Acid.
Basically, the product comes in a simple, minimally designed box with sufficient product information printed on the side of it. The exfoliating toner is housed within that quite small, transparent, rectangular bottle therefore it is easy to monitor the amount of product left in it.
I see Manufacturing Date printed at the bottom of the bottle in the format of EXP YYYMMDD (Year-Month-Day) and do note that Period-After-Opening of this toner is 12 months so do write down the Opening Date somewhere on the packaging for easy reference.
The product doesn't come with a pump or anything; just a simple screw cap with seal that needs to be removed before using and with the small hole at the cap, I'd say it's easy to dispense the toner on cotton pads.
As the product has a watery consistency, I just have to use cotton pads with this toner plus it'll help with smoothing out the dead skin cells.
The toner leaves a smooth finish for me to follow up with hydrating toner as I usually would after exfoliating skincare products.
This toner feels mild to my skin, doesn't irritate even my overly sensitised facial area.

Evidently, less dead skin cells got smoothed out if I were to compare this product to other exfoliating toners I've used mostly with higher concentrations of AHA or BHA although that's not really a downside as I actually been using this toner during sensitive skin days.
I'd say this does the job if you're looking for gentle daily exfoliating toner but if  you're looking for an immediate effect then this isn't for you.
I also love using this as part of my midday skincare routine while I'm at the office so I'd decanted some in a small bottle to carry in my skincare bag.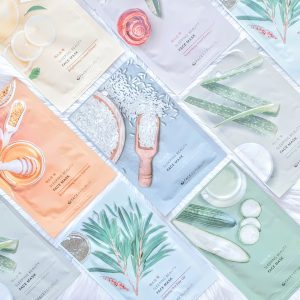 Review
If you're following me on social media like Instagram then you probably noticed that I am such a #sheetmaskjunkie and I do at least use
Read More »