Covid-19 surely brings about many changes into our lives, from the smallest to the biggest aspects of it. As for the beauty aspect, I no longer buy or use makeup as much as I used to because wearing mask that is tainted with foundation or blusher makes my skin worse. It's not so much about maskne though, it is more to redness and itchiness that makes me really uncomfortable through the day. For that reason, I now skip any base/skin makeup and just finish off with sunscreen. I still do my eyebrows and put on mascara and lipstick so I now find myself reaching for micellar water and cleansing water as I do cleansing oil or balms.
2020 was the year that I tried many various cleansing waters and micellar waters, I guess. This is the one that I recently tried:
Uriage Thermal Micellar Water (For Normal/Dry Skin)
Uriage is a leading pharmaceutical dermatological brand created in 1992 from France. Most of their products centre around Uriage Thermal Water, a unique active ingredient which is sourced from French Alps. This brand focuses on sensitive skins in the beginning and has now widen their range. They apparently come out with three types of micellar water:
Uriage Thermal Micellar Water for sensitive skin
Uriage Thermal Micellar Water for oily/combination skin
Uriage Thermal Micellar Water for normal/dry skin
Ingredients
Aqua (Water, Eau) ,Polysorbate 20 ,Poloxamer 184 ,Glycerin ,Caprylyl/Capryl Glucoside ,Cetrimonium Bromide ,Polyaminopropyl Biguanide ,Parfum (Fragrance) ,Vaccinium Macrocarpon (Cranberry) Fruit Extract ,Citric Acid
Cleansing agents used in this micellar water are gentle and non-ionic which are Polysorbate 20, Poloxamer 184, Caprylyl/​Capryl Glucoside, Cetrimonium Bromide. These ingredients act like magnets to effectively and gently eliminates all impurities from the skin. It is enriched with apricot extract for its soothing power and with moisturizing Uriage Thermal Water to protect the skin against dryness.
The ingredients list of this micellar water is definitely one of the shortest I have ever seen after Garnier micellar water, that Garnier one contains only seven ingredients while this one has ten ingredients. This product is free from paraben, sulfate, silicone, and alcohol, in case you have any issue with any of these three. I don't really mind paraben personally and also sulfate but for cleansing waters, I tend to avoid the ones with alcohol as top ingredients because sometimes they can be drying to my skin or worse, making the areas around my upper lip and under eye super tight and flaky.
This also contains fragrance, while my skin has no problem with that, I am not sure about yours so if your skin is the sensitive type I think you should opt for the sensitive variant.
Texture and Smell
This smells pleasantly refreshing to my nose. It's not subtle but not overbearing either. Texture is just like water with a bit of a slip. It also feels cooling.
Performance
I have (from left hand side) The Balm eye shadow, Innisfree brow liner, Maybelline Falsies Waterproof Mascara, Etude House liquid foundation, Maybelline Hyper Sharp eyeliner, Antipodes bullet lipstick, The Pastels Shop liquid lipstick, and another The Balm eye shadow on the bottom part.
At first swipe, everything is taken off so easily except for the waterproof mascara.
At second swipe, everything is also removed easily but there is still a trace of the waterproof mascara.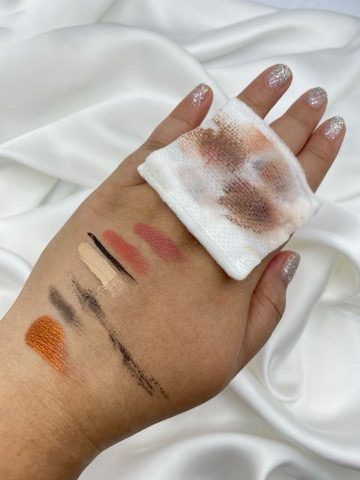 After multiple swipes, the waterproof mascara is removed completely but with a little bit of tugging. So what I do is I would soak the cotton pad with this Uriage micellar water and let it rest for a while on my eyelid before swiping them all off.
There is no stain or traces of makeup left after removing. Yes it needs a bit of tugging but nothing painful or uncomfortable.
Experience
My makeup removing experience with this one is gladly a pleasant one as it takes off most of my daily makeup even the stubborn ones easily without having to rub hard. This really makes me happy because for such a gentle texture, it has a strong removal power!
This also moisturises my skin so it doesn't feel drying at all. It moisturises the skin without leaving a sticky feel to it so no worries about feeling uncomfortable after using. There is also no itchy feeling even though I do not cleanse my face right away after removing my makeup so this is very convenient for me to perform prayers as I only have to remove my makeup, perform ablution and pray. I can wash my face with facial cleanser after especially when my day is busy.
Another important part is that this doesn't sting my eyes – this is such a big important factor that determines whether I like a micellar/cleansing water.
All in all, I love how this removes make-up gently, leaving the skin supple and non-sticky. This is definitely suitable for those with normal to dry skin. I also experience no bad reaction to this such as breaking out, redness, tiny bumps, or rashes.
My rate: 4.9/5 (This is great but not enough to be 5/5 which is my holy grail).
Would I repurchase this? Maybe if it is on sale as there are other cheaper micellar waters that perform just as excellent.
SHOP HERE
Uriage Thermal Micellar Water (For Normal/Dry Skin)