For years, I only had 4 different toners in my skincare stash (not that any of you need all of those toners in your routine); the basic hydrating toners, soothing toners for days when my skin is irritated along with brightening and anti-ageing toners to complement my brightening and anti-ageing skincare lines respectively.
But over the past couple of years, I've added exfoliating skincare products like Alpha-Hydroxy-Acid (AHA) and Beta-Hydroxy-Acid (BHA)-containing products so with these products have low in pH (3.0 to 4.0) in order to work well on the skin, I need to add another layer of product on top to bring back the skin pH to 4.7 to 5.7 i.e the optimal pH value of healthy skin. This pH-Balancing Toner from South Korean brand Face Republic is part of their #preptrio skincare line designed to cater those who need simple skincare routine.
What's Interesting about this Toner
It's an after-cleansing must-have for dry, oily and sensitive skin, this toner preps the skin by restoring its natural balance without stripping away its natural oils.
Capacity: 160ml – About 3 to 4 months of daily usage.
Water, Butylene Glycol, Pentylene Glycol, 1,2-Hexanediol, Betaine, Panthenol, Ethylhexylglycerin, Sodium Hyaluronate, Sodium Citrate, Allantoin, Citric Acid, Disodium EDTA, Tocopherol
Basically, the product comes in a simple, minimally designed box with sufficient product information printed on the side of it. The toner is housed within that quite small, opaque, white, rectangular bottle but I can still let flashlight to shine through for me to check how much product left in it.
I see Manufacturing Date printed at the bottom of the bottle in the format of EXP YYYMMDD (Year-Month-Day) and do note that Period-After-Opening of this makeup remover is 12 months so do write down the Opening Date somewhere on the packaging for easy reference.
The product doesn't come with a pump or anything; just a simple screw cap with seal that needs to be removed before using and with the small hole at the cap, I'd say it's easy to dispense the toner whether on cotton pads or right onto my palms.
The product has a watery consistency which quickly absorbed into the skin and there's almost no scent to this.
The toner leaves a well-hydrated finish that's just great for me to follow up with my treatment serums, ampoules or for my morning routine, sheet masks.
Looking at the ingredients, I do appreciate the presence of my favourite humectants like Hyaluronic Acid and Betaine that are known for their hydrating properties however I find this toner a little bit lacking in that department so there is absolute need for me to either layer the toner 3 to 5 times or simply use a much more hydrating toner.
Although I believe this toner will work well for those with oily skin or young people with less skin problems so definitely check this product out if you're looking for mild skincare product.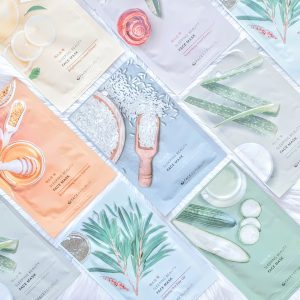 Review
If you're following me on social media like Instagram then you probably noticed that I am such a #sheetmaskjunkie and I do at least use
Read More »