If you're following me on social media like Instagram then you probably noticed that I am such a #sheetmaskjunkie and I do at least use one sheet mask a day. I recently discovered these sheet masks from South Korean Face Republic that was advertised to be great with night skincare routine.
The sheet mask line called 7 Days Sleeping Beauty Mask as there are 7 different types of sheet mask that you can get in a bundle or separately if you like certain variants but after trying several of them, I decided to add these sheet masks to my daily morning skincare routine.
What's to Know about these Sheet Masks?
Soothing Aloe Extract – Soaked and packed in Aloe Vera, this soothes damaged and hydrates dull skin. Aloe is a known antioxidant, prevents skin aging and is rich Vitamin E and Vitamin C.
Whitening Rice Formula – Soaked and packed in rice water, this soothes the skin and whitens it. Rice water is a traditional Korean treatment for lightening the skin, it is rich in vitamin B & E, minimizes its pores and promote collagen production.
Nourishing Snail Essence – Soaked and packed in Snail Essence, this nourishes the skin and repairs damaged tissues. Snail is known to protect the skin from free-radicals and boost hydration.
Brightening Lemon Extract – Delivers a daily boost of vitamin C to fight free radicals, boost immunity, and brightens your look; infused with Sodium Hyaluronate to help skin hold moisture for a fresh and hydrated looks; soothes with Allantoin, a gentle ingredient that works to reduce irritation.
Rejuvenating Honey Nutrient – Soaked and packed in Honey, this mask is rich in nutrients, reviving the glow on your skin.
Hydrating Cucumber Extract – Quenches and refreshes parched complexions with cucumber, which contains amino and organic acids; helps skin hold moisture with Sodium Hyaluronate for a fresh and hydrated look; soothes with Allantoin, a gentle ingredient that works to reduce irritation.
Calming Tea Tree Oil – Cleans and clears as it combats acne with tea tree oil's natural antibacterial properties; helps skin hold moisture with Sodium Hyaluronate for a fresh and hydrated look; soothes with Allantoin, a gentle ingredient that works to reduce irritation.
How to use:
After cleansing and toning, pull out the mask and unfold carefully.
Evenly place the mask over the facial area; adjust the upper part to the eyes while the lower part to the mouth.
After 15 to 20 minutes, remove the mask sheet and gently pat any remaining essence into skin.
Follow up with the rest of your skincare routine.
I remember getting the sheet masks in a box and the sheet masks came in simple packet with product description and the ingredients list printed in English at the back side of the packet for your reference. Back when the brand first available in Malaysia, there was the Distributor sticker at the lower part of the sachet but now that information is being printed right on the sachet.
There's supposedly expiry date embossed at the bottom part of the sheet in the format of EXP YYYYMMDD (Year-Month-Day) so make sure to take note of that because some sheet masks have shorter shelf life as most Korean brands have 24 to 30 months.
The sheet mask does not come with a plastic separator but it is still easy to unfold the sheet and apply onto the skin. The sheet was kind of thin and adhered well onto the skin.
The serums contained were clear, with subtle scents to them but I'm thankful they're not too overpowering nor linger throughout the minutes I've had them on my face.
I've noticed that after taking the sheet off, my skin was well-hydrated with my pores appearances seemed minimised and felt so smooth to touch.
While I can't really differentiate the effect of one variant to another, I'd say all of the sheet masks works nicely into my simple morning skincare routine and I love how my skin stayed hydrated all day long. With my skin being a little bit dehydrated, I'd prefer the soothing and hydrating ones better.
Do note that that if your skin cannot tolerate Witch Hazel then you might want to avoid these sheet masks as all of them contain that ingredient although I think the mild astringent effect does well for my pores.
I usually use simple cleanser followed with gentle exfoliating toner, hydrating toner then applied the sheet mask and finish off with gel moisturiser to seal my morning skincare routine prior my sunscreen of the day.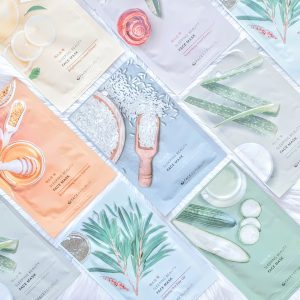 Review
If you're following me on social media like Instagram then you probably noticed that I am such a #sheetmaskjunkie and I do at least use
Read More »