Do you guys still remember the first ever KBeauty product you've ever purchased? I remember Innisfree and Etude House was kinda like the OG starter pack brand to look for when you're new to Kbeauty 😊 I get more intrigued with Kbeauty when my friends invited me to join to for a short S.Korea trip during my study days. I bought some liptints and loads of sheetmasks from Innisfree because they were so cheap compared to buying them loosely in Japan. It was a great experience 👍✨
I notice how Innisfree frequently update their product design and the latest ones are in minimalist-style design. The sheet mask packaging also changes from time to time and I really like current white aesthetic going on in the design. I haven't used any of Innisfree's sheet masks for a long time and really curious of how they look like now.
First off, lets check out Innisfree My Real Squeeze Mask #Rose 🌹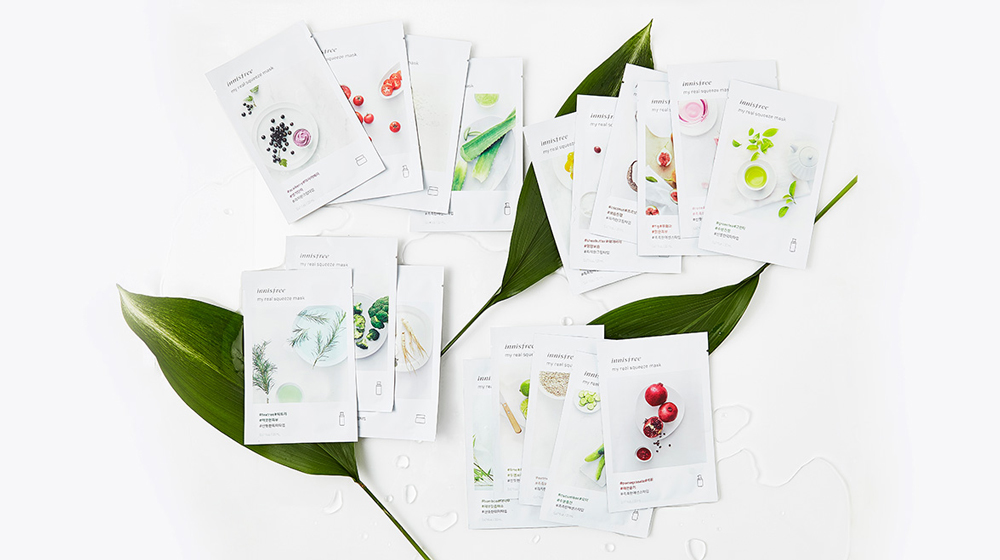 This refreshing water-type real mask, enriched with moisture from roses, leaves the skin looking smooth and radiant
WATER, GLYCERIN, DIPROPYLENE GLYCOL, NIACINAMIDE, BUTYLENE GLYCOL, ROSA CENTIFOLIA FLOWER JUICE, BETAINE, PANTHENOL, XANTHAN GUM, 1,2-HEXANEDIOL , PEG-60 HYDROGENATED CASTOR OIL, GLYCERYL CAPRYLATE, CENTELLA ASIATICA EXTRACT, ALLANTOIN, ETHYLHEXYLGLYCERIN, DISODIUM EDTA, DIPOTASSIUM GLYCYRRHIZATE, PAEONIA SUFFRUTICOSA ROOT EXTRACT, CHAMOMILLA RECUTITA (MATRICARIA) FLOWER EXTRACT, FRAGRANCE PANTOLACTONE, SODIUM HYALURONATE
ROSA CENTIFOLIA FLOWER EXTRACT contains a few vitamins and antioxidants that help moisturize dry skin. Its astringent properties help tighten pores and reduce the redness and inflammation due to distended capillaries
PANTHENOL is great humectant, great for those with dry skin. It helps to promote skin healing by enhancing cell growth. It'll binds with water and enhance hydration, making your skin feels smoother and supple
CHAMOMILLA RECUTITA (MATRICARIA) FLOWER EXTRACT often used in skin care formulations for it's soothing and anti-inflammatory effects. It has also shown to offer wound healing and natural skin moisturizing benefits to the skin
Fit : 3.8/5
Personally the eye hole is a bit stretched to the side and upper-mouth piece is a bit too wide for my liking. But overall the fitting is still pretty good!
Material : 4/5
Thin sheet mask made of eucalyptus pulp, feels really comfortable on the skin
Adherence : 4/5
Sufficient slits to cover and hugs your face's curves. Sticks snuggly on the skin, easy to smooth out the bubbles too
Scent : 3.5/5
Sweet rose scent, does have a bit of artificial scent to it


Texture : 5/5
The essence is clear and watery, easily absorbed by the skin
Recommended Skin Types
For all skin types 
Recommended time : 10-20 minutes
Dehydrated-combination, oilier on nose and cheek area. Prone to redness and mild acne.
Oh My God. Can you see how thin this sheetmask is? I think the previous material was thicker and a bit stiffer but this… This feels amazing! Made from 100% eucalyptus cellulose, this material is almost transparent but it strong and doesn't tear easily. I'm quite amaze with its ability to hold a lot of essence with almost no messy dripping, and there's hardly any extra essence left in the packaging when I took the sheet mask out. It adheres well onto the skin and hardly any spot lifting up after carefully smooth out the trapped bubbles. It feels really comfortable on the skin and quite soft as well 🥰
I'm not sure if you're aware of the small detail but Innisfree sheetmask labelled all their packaging with which type of essence too. It's on the lower-right side of the front packaging, for example the #Rose variant essence is a 'water' type essence. Meaning they contain thin-watery texture essence, something like a refreshing toner! They also have thicker version of texture label as 'essence' and the thickest as 'cream' type
I personally loveeee watery type essence so I really enjoy how this sheetmask feels on my face. The essence helps tremendously quenching the thirst of my skin especially during this drier cold season in Japan. I didn't experience any irritation or discomfort when having the sheetmask on. Please note that if your skin is sensitive or allergic to roses, be careful! I know personally some of my friend that shares how their skin doesn't tolerate with Roses extracts so if you have the same problem too, better avoid or proceed with caution if you still want to try❗
After taking off the sheet mask, I patted in the leftover essence. It was a bit tacky at first but gradually disappears. My skin feels soft and smooth, well-hydrated and look bright and fresh! I notice it help reduce the redness quite a lot and my pores look smaller in size. It didn't left any tight feeling and the hydration last for a good couple of hours with minimal sebum production
Overall, I think it's a pretty good sheetmask to try though it's a bit bummer that it does contain fragrance at bottom of the ingredient list. Tho I didn't experience any bad reaction, I wouldn't recommend it if you're sensitive to it. YMVV. I did enjoy this #Rose sheetmask a lot than I expected and can't wait to share my thoughts on other variants too! 🤩
✨ Always listen to your skin ✨
P/s: All opinions and thoughts are based by my experience and solely mine.