If I had to recommend a soothing, hydrating mask for all skin types (especially sensitive skin) it would be this baby. From my early days of delving into skincare back in 2016, Naruko's Bunga Raya Snow White Ice-Cooling Mask has truly stood the test of time and is still one of my top sheet mask picks for SOS care. So much so, that I always make sure to have at least one in my stash. But what makes it so amazing? Read on to find out!
Fun fact: this mask is actually a special edition variant exclusive to Malaysia as it stars our national flower, the bunga raya (hibiscus).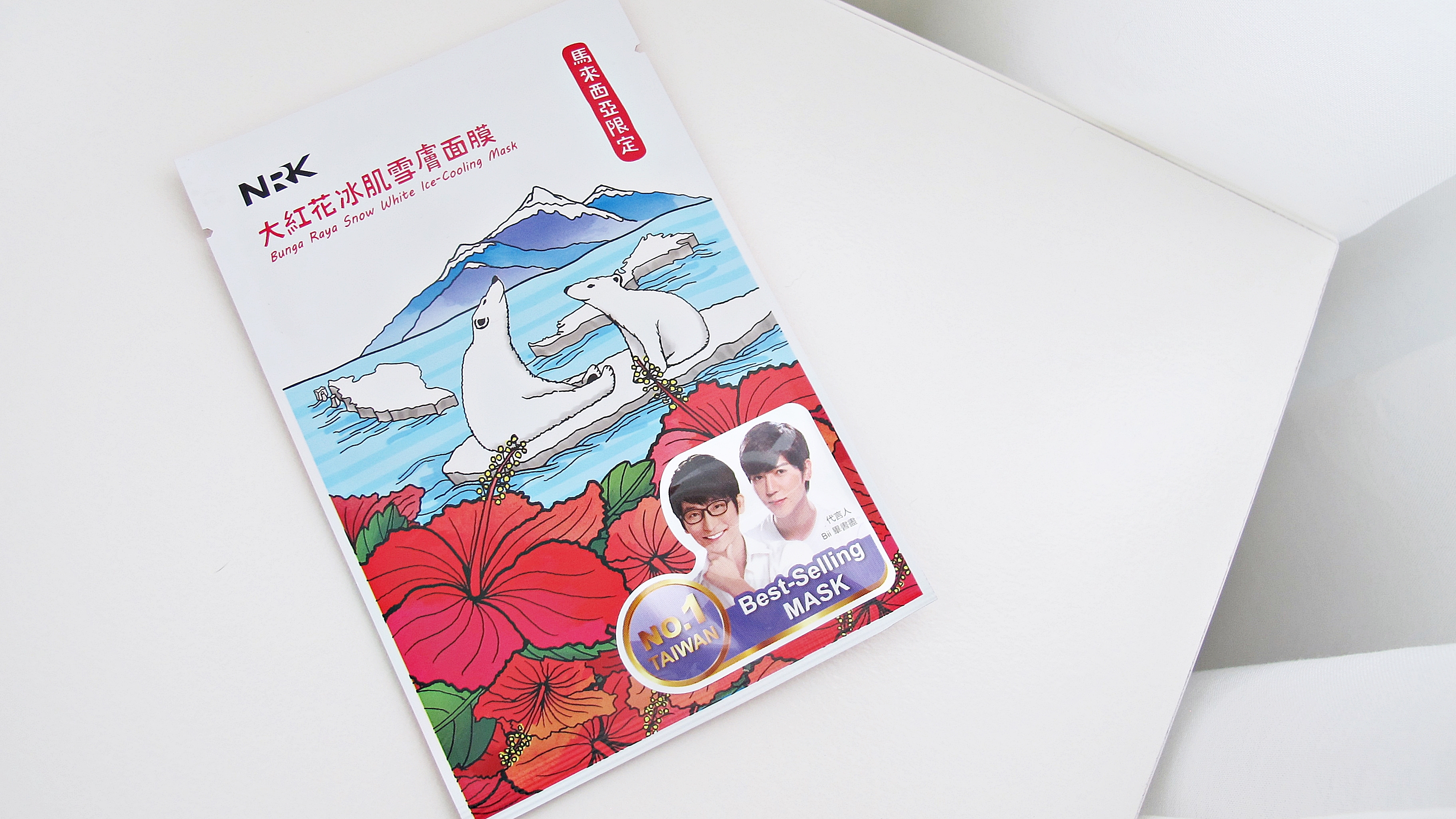 PRODUCT DESCRIPTION:
Benefits: Provides hydration, evens out the skin tone and reveals calmed, soothed skin. Suitable for all skin types.
FULL INGREDIENTS:
Purified Water (Aqua), Dipropylene Glycol, Butylene Glycol, Niacinamide, Hydroxyethyl Urea, Phenoxyethanol, Hydroxyethyl Ethylcellulose, Chlorphenesin, Carbomer, D-Panthenol, Triethanolamine, Saccharide Isomerate, PEG-40 Hydrogenated Castor Oil, Hibiscus Rosa-Senensis Extracty Imperata Cylindrica Root Extract, Glycerin, Sodium Hyaluronate, Menthyl Lactate, Essential Oils of Rose (Rosa Damascena), Geranium (Pelargonium Graveolens), lodopropynyl Butylcarbamate, PEG-8, Sodium Citrate, Citric Acid, Maltodextrin, Saccharide Hydrolysate, Cl 16255, Potassium Sorbate.
VOLUME:
25ml / 0.88 fl.oz. x 1 sheet
PACKAGING:
Matte white and red plastic packet with a pretty design illustrating blooming hibiscus flowers amidst arctic polar bears. Brief description, ingredients list and a cute "how to" illustration on the back of the packet.
HOW TO USE:
After cleansing, apply the mask evenly onto face for 15-20 minutes.
Remove mask and continue with usual skincare routine.
SCENT:
Moderate sirap ros scent familiar to most Malaysians, with a hint of floral hibiscus. Overall, nicely calming, and not too cloying.
ESSENCE TEXTURE/FINISH:
Light pink watery consistency. Absorbs easily into the skin with minimal to no tacky finish. Leaves skin feeling fresh, soft and smooth to the touch.
MASK TEXTURE/FIT/ADHERENCE:
Medium thickness with a smooth, soft and plush surface which feels comforting on the skin. Comes with a plastic perforated backing for easier mask separation. Good adherence – no risk of falling off while you move about!
Fit could be better (a little wide for my face) but overall fits facial contours well enough. My face is on the smaller side, so this would be fine for bigger faces too!
MY SKIN TYPE:
Sensitive (prone to redness and irritation), combination-dry, acne-prone and dehydrated.
OVERALL THOUGHTS & EXPERIENCE:
One cool fact about this mask that I still enjoy to this day is how cooling it feels on the skin even if you don't store it in the fridge beforehand! It really feels like you've just put on an ice pack or fever patch on your entire face – in a good way, of course. So if you suffer from heated skin like I do (especially when I'm stressed… think overheated computer 😂) or just need to cool your skin down from the hot Malaysian weather, try this baby!
Now, as you can see, there's visible red patches on my face due to some mild physical exfoliation, particularly around the nose area. Pores are also looking quite congested and skin has been dull and dehydrated too. And whaddaya know, my skin looks much brighter and hydrated after using the Naruko Bunga Raya mask! The redness is still visible here and there, but I guarantee that my skin feels much more soothed.
MY RATING:
5/5
While I can't say this is the best mask I've ever tried after years of skincare testing, I still love having the Naruko Bunga Raya Snow White Ice-Cooling Mask in my stash. It always serves me well, no matter how bad my skin feels and looks. Highly recommended, always.
Also, since it's a special edition for Malaysians, it's a great souvenir gift for your non-Malaysian skincare enthusiast buddies! 😜
SHOP HERE