TLDR: Experiment with all the placements if you're not sure which suits your face best. You'll find the one you like best over time.
I've been a makeup artist for 8 years now, mainly focusing on bridal makeup. I absolutely love how makeup can transform faces with just a bit of know-how for what suits each face best. The good news? You only have one face, so you only need to figure out each know-how once, haha.
Over the years, I've discovered that everything we learned about makeup from 10, or even 5 years ago, doesn't necessarily apply anymore. Rules have loosened, regular people like us now have access to professional tips and tricks, and products have vastly improved in every aspect. The makeup world has reached heavenly levels.
So when it comes to blush, don't settle for the two-blotches-on-the-cheeks idea! Blush can do wonders to your makeup look, whether it's the colour or finish (ie. warm/cool tones and matte/shimmery/satin finishes), or today's how-to, blush placements. Let's get into it:
This style enhances naturally symmetrical faces, ie. if your face isn't "too round/too long/too square/too short/etc", this style will most likely suit you best.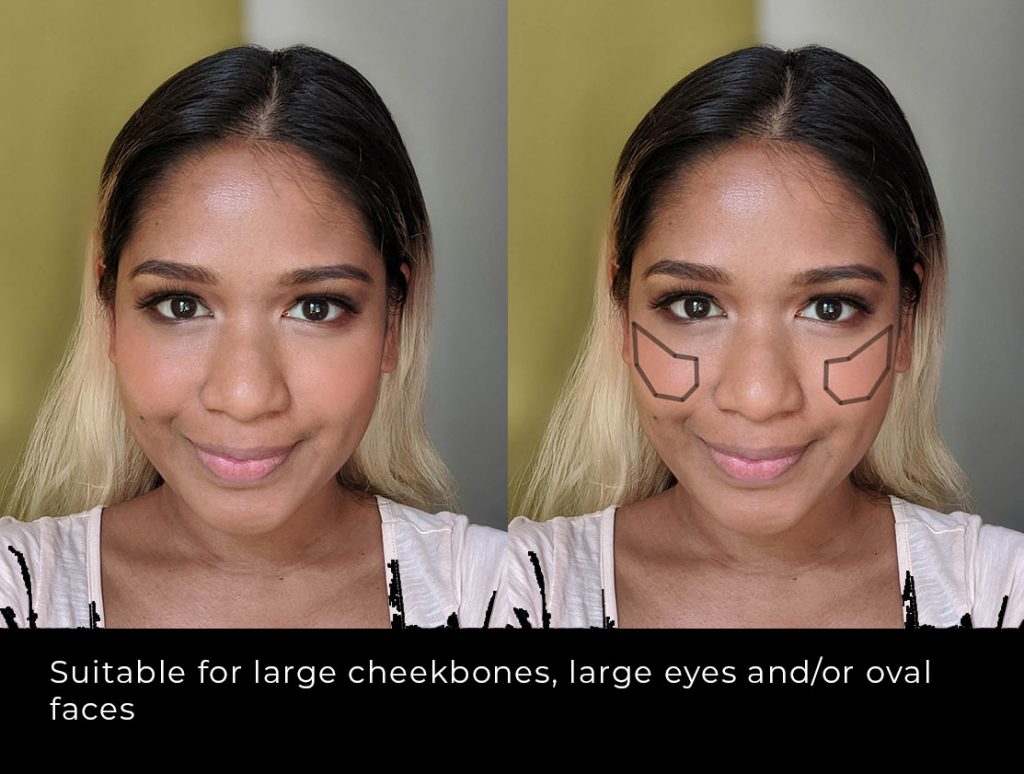 2. This style looks fantastic on squarish or long, thin faces. You can experiment with how high or low it should be, but basically keep the blush in a horizontal line from the side of the nose to the bottom of the ear. Depending on your face shape, this line can be right on the cheekbone, just below the cheekbone (replacing contour powder), or even lower just above the jaw. Experiment with it until you find the perfect spot! 
3. This is my current go-to since I've been wearing less makeup this year. Lightly go over the bridge of the nose, brushing down to the start of the cheeks. I recommend using a small blush brush for this look to avoid getting blush all over the center of your face. Start with a light hand and gently add blush if you feel like you need more. If you accidentally get too much on, use your foundation brush to pat/brush away the excess blush. This style looks great with a bit of highlight under the eyes – so fresh! 
4. This style really blows my mind how well it suits rounder faces with high cheekbones, when paired with contour below the cheekbones. Stick to just a little sliver of blush, avoiding the area inside the triangle and you can be heavier-handed with the contour below the blush.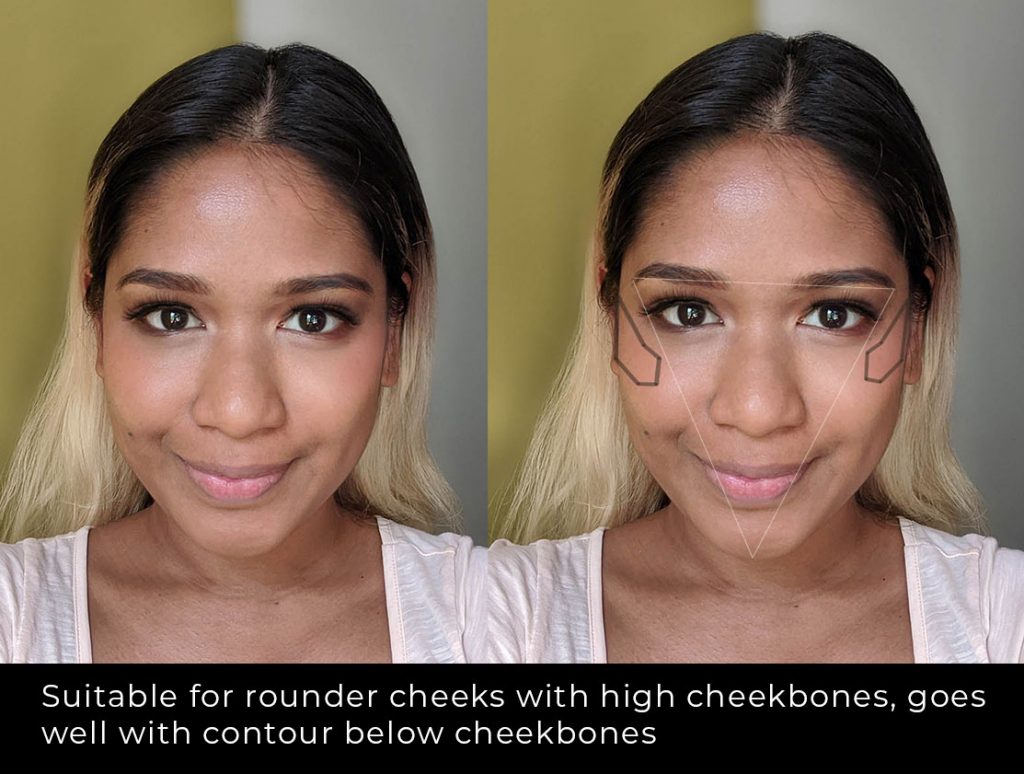 5. I use this style for clients with squarish wide faces, again pairing it with the right placement of contour (the '3' shape is one good example of where to place the contour). This combo softens the face shape. Getting the right contour & blush colour is another key to success for this style.
6. If you have a short, round face, this style might be just the thing for you! Throw out all the outdated rules you know about blush and try placing your blush just below your cheeks. Placing the blush directly on your cheeks may take up too much precious space near your eyes, so placing it just below that keeps the focus on your eyes, and keeps the center of your face bright. Just a little bit of blush will do, curving up in a small checkmark shape right below the cheeks towards the ears. You can also pair this with contour at the very edges of face.
7. If you have very deep-set eyes or brow bones or if your features are very pronounced but you have a small face, this placement keeps your features neutral without drawing too much attention to any one feature. It "disperses" the focus to the overall face. Experiment with a satin highlight powder or brighter (usually reddish) concealer in the center of your face as well and you could hit the jackpot with this style. 
I'm using Maybelline's Fit Me Blush that gives me Nars blush dupe vibes. Especially the nude peach and gold rose shades hmmm macam yes?
Hope that helps! <3
SHOP HERE