I still remember my first encounter with acne patches – I saw it on a friend and I asked her why she had tape on her face. 😂 That was years ago and back then I was a traditional pimple cream kind of girl with only 4 steps in my skincare routine. I only transitioned to acne patches sometime last year out of curiosity as I realised pimple creams were too strong for me and I always ended up with a stubborn scab. Not sure was it the pimple cream that I was using, but I always felt like my pimple was being lasered off or something 😂
My first acne patch was a Watsons brand acne patch and although it was a little thick, I felt it did do the work. As it was depleting, I decided to try out a different brand to see if I could find something more effective. I was actually contemplating between Cosrx, Pyunkang Yul and By Wishtrend as they had patches in different quantities and sizes. I decided on Cosrx's because I really enjoyed my experience with their AC Collection Calming Liquid tester (It's currently high on my wishlist!). I also liked that the patches had 3 sizing variations as I occasionally do get really big pimples.
Cosrx's AC Collection Acne Patch not only helps the acne disappear without a scar but also helps soothe and calm the spot with its key ingredient – Centella. The oval shaped hydrocolloid patch is suitable for covering several acne spots at once as well as covering body acne. The patches come in 3 sizes that can cover small pimples to cystic acne. The border of the patch is thinner so it strongly adheres to curved areas such as jawline and hairline.
---
How to use:
1. Cleanse the area around the troubled spot. Use after an exfoliator of before a toner.
2. Choose a patch that is bigger than the troubled spot.
3. Attach the patch on dry, cleansed skin.
---
My review:
As usual, Cosrx's products come in a clean, sleek packaging that just looks so good in pictures! The Cosrx logo is printed all over the acne patch packaging which makes it so aesthetically pleasing. 
I loved that Cosrx's acne patches were so user friendly as you can tear from the center to get an easier peel off of it. The Watsons brand one doesn't have that and whenever I had difficulties peeling a patch off, the part that I scrapped would be less adhesive after several trials.
Coincidentally when I tested this patch, I had 2 pimples next to each other and around the same size and maturity, so I decided to do a comparison test with Cosrx's AC Collection Acne Patch vs the Watsons brand one.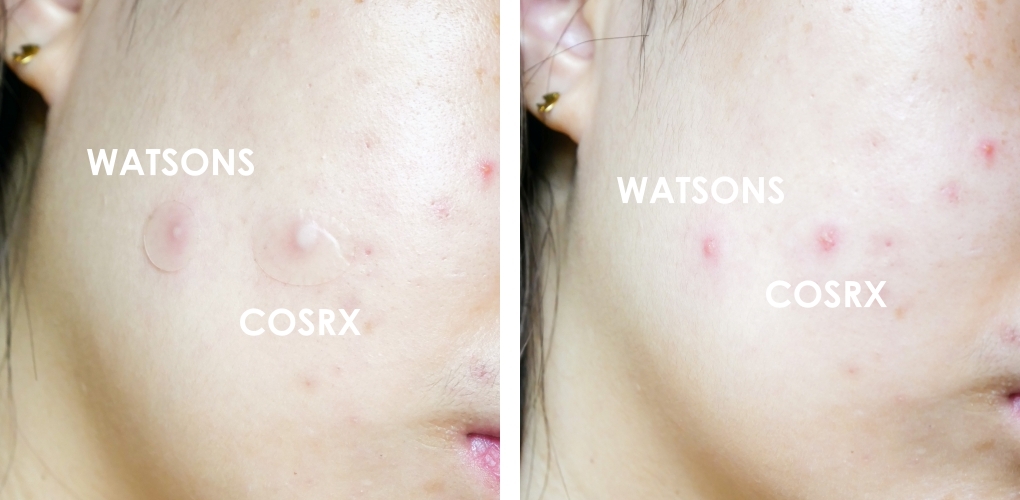 I left both patches on overnight and was surprised to see Cosrx's acne patch absorbed 3 times more sebum compared to the Watsons brand one. There were still some redness on both acne spots after peeling the patches off, but the acne spot Cosrx's acne patch was on became significantly flatter compared to the latter. It's not visible from the photo but I was super surprised when I felt my skin!
Cosrx's acne patch absorbed way more sebum on it and it's also much thinner. I repeated my test on the Watsons patch area and needed to use it 3 times before my acne completely flattened. So even though Watsons' acne patch is cheaper per piece, it took more than one use and more days to show the result on par with Cosrx's acne patch which doesn't make it that cheap anymore.
Overall, I'm really satisfied with Cosrx's AC Collection Acne Patch because it worked really well on my acne and managed to subside it in a short period of time. I would definitely repurchase this when mine finishes! 
Rating: 5 / 5 🌟
Ingredients list: 
Carboxymethylcellulose sodium, Polyisobutene, Rosin, Polybutene, Mineral oil, Centella Asiatica Extract, Polyuethane film
SHOP HERE
Cosrx AC Collection Acne Patch