Back on another episode of me reviewing sheet masks! I reviewed so many masks, I should make a hashtag for every sheet masks I review.
Today, the selected sheet mask is Dr Morita's Glacial Clay Seaweed Moisturizing Facial Mask. I've worn this one before and really had a nice time with it. This time around, I'll share with you my another favourite from Dr Morita's facial mask (welp, I think I like all of them!).
Highlighted ingredients
🌋 Glacial clay (alluvial mud)
A natural ingredient that contains variety of minerals that can effectively exfoliate skin cells whilst moisturizing and improve skin elasticity;
🌿 Algae extract
Aid in providing moisture to skin, repairing and softening the skin;
💧 Hyaluronic acid (sodium hyaluronate)
Powerful moisturizing factor/agent, can help the skin to sustain hydration all-day long to avoif moisture loss, for supple and wrinkle-free skin;
💦 Hydrolyzed Hyaluronic acid
Its micro-sized molecules is the smallest among all kinds of hyaluronic acid which enables it to penetrate the stratum corneum (epidermis – outer layer of skin), reaching deep water retention.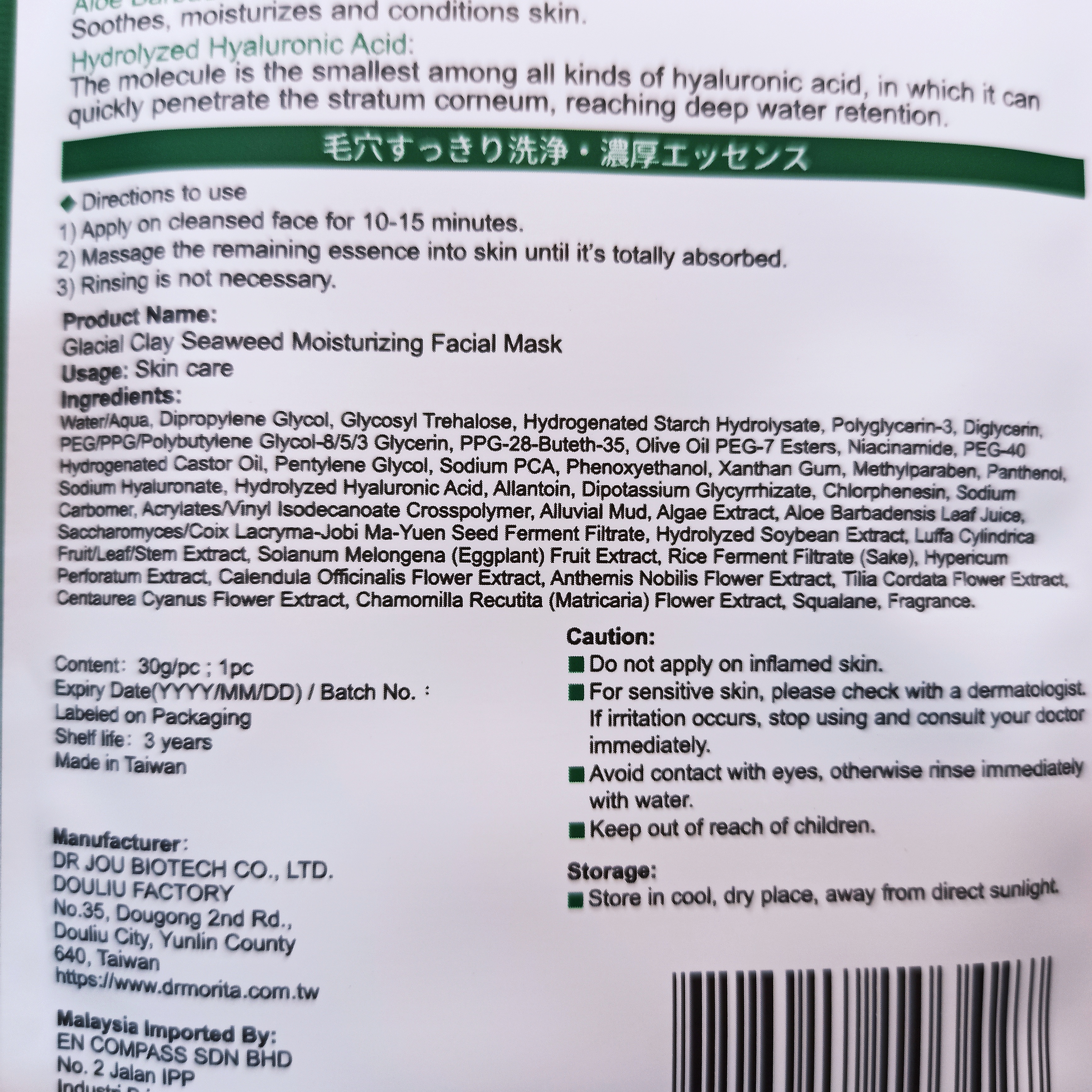 Claims
✨ Purifying the skin
✨ Moisturizing the skin
✨ Long-lasting hydration
✨ Skin repairing and softening
✨ Improve skin elasticity
The essence has an essence like texture (of course it is, because it is an essence!) with a hint of unidentified fragrance. Lately, I've been obsessing to get a sniff of floral scent whenever I open a new sheet mask – is it because I know my skin can tolerate fragrance in skincare very well? Annnnd for the first time, I kind if like this plastic backing as it seems to have those slits that looks like a 3-leaf clover.
And what is this blue lining (refer picture below), I never seen one before in any of the sheetmask I've worn before this 🤔 I suppose to take it off before placing the sheetmask on my face right?
My thoughts
Frankly, I love the sheet material (aside that it claims to be infused with natural charcoal hence the black colour – I've nothing against it but …. okay) as I think it stayed longer on my face (means more essence that it can hold in its material).
But the thickness of the sheet is too thick for my preference as I had to fold the part below my chin area and it won't stay put. And also, as time went by, although the sheet mask did hold the essence inside it but I'm afraid if it dries up as I like my sheet mask to be glistening with the essence. On the good side, I can walk around the house without worrying the essence will drip down my neck.
And I do remember, the last time I wear it, the fit adhered superbly to my skin, need no folding or extra slits anywhere and the holes sizes are just nice and of the right size. But this time around, the size of the philtrum area kind of getting bigger and it covered my upper lip. Hence, I need to place the sheet a little bit higher and eventually, the edge of the eye hole sat very closely to my lower eyelid.
The hydration was slightly above mediocre, not very intense nor too dry afterwards. Fortunately, the essence absorbed really well and my skin is left with less to no sticky feeling at all after patting it dry. I do wish more essence provided in the packet because I just can't get enough of it and I know I'll just pour all of it onto the sheet mask.
Overall, I rate this sheet mask a score of 3 out of 5 because it still provide some moisture to my face despite the thickness of the sheet material and I need more of the essence!
You can shop yours by using the link provided below.
SHOP HERE