I never knew Eunyul had such an extensive line of products as I've always known the brand as a cheap mask brand, and not a skincare brand. Like you can get Eunyul masks for under RM2 which is super cheap! I've tried them and the quality is okay, good to use as an everyday mask or a pre makeup mask. So coming into this review, I had little to no expectations as how can an ampoule be cheap and good? I actually purchased this to try because I was actually curious could it really be good since there were great reviews on it.
There are 3 types of ampoules in Eunyul's Seed Therapy Ampoule line, each with its core ingredient serving its own purpose:
Yellow Seed – Orange for vitality, skin brightening and anti-wrinkles
Green Seed – Green peas for calming, skin soothing and anti-wrinkles
Black Seed – Black beans for moisturising, skin glowing and anti-wrinkles
All ampoules from Eunyul's Seed Therapy Ampoule line have this unique double capsule technology which are individual caviar like formulas infused in the ampoule. It helps effectively deliver highly enriched and concentrated ingredients. A gentle roll helps pop these ingredients and provide better absorption to the skin.
---
How to use:
After cleansing, take an appropriate amount and lightly massage into your skin.
*Ampoule is best used after serum and before oil or cream.
---
My review:
I actually didn't read about the double capsule thing this ampoule had, so when I unboxed it I was thoroughly surprised by how cool it looked! It reminded me of Shiseido's Waso beauty sleeping mask which also got me super intrigued by their double capsule action going on. Eunyul's yellow seed therapy vital ampoule smells just like oranges. It smelled super amazing that you'd feel refreshed and happy when using it in your skincare routine. It's no surprise there because its ingredients contain a variety of fruit extracts including orange, melon, grapefruit and apricot just to name a few.
The ampoule is a gel like texture with mini yellow or orange beads that pops with a gentle rub. The application is really smooth, easy and absorbs really quick and well into my skin. I get really excited whenever I use it during my routine because it smells so yummy and I do notice my skin getting brighter and actually more even after a week of usage.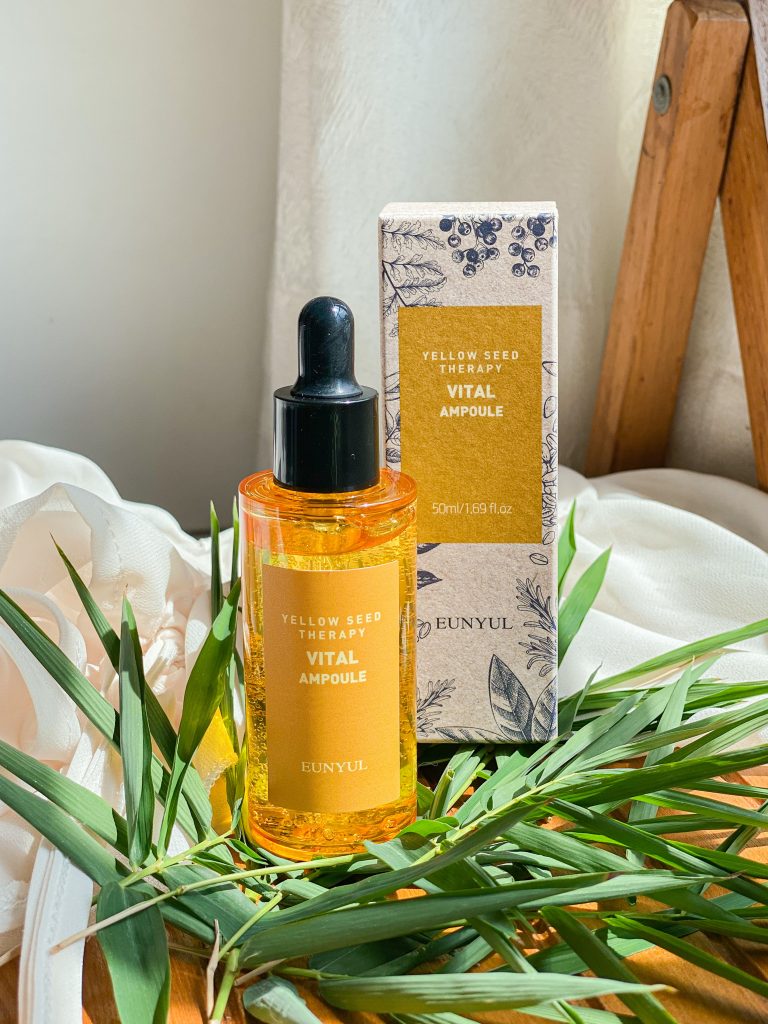 I've always thought that Eunyul was a cheap mask brand and that was all, but I never thought they had such a good ampoule. I'm definitely not underestimating Eunyul again and really excited to continue using and seeing the results after finishing a bottle. I'm actually quite curious to try the other Eunyul skincare because who knows, there could be hidden gems that are simply underrated whilst being very affordable.
Rating: 5 / 5 🌟
Ingredients list: 
Water,Butylene Glycol,PEG/PPG-17/6 Copolymer,Glycereth-26,Niacinamide,Alcohol,Caprylic/Capric Triglyceride,Citrus Aurantium Dulcis (Orange) Seed Extract,Cucumis Melo (Melon) Seed Extract,Citrus Junos Seed Extract,Acacia Senegal Gum,Gelatin,Tocopherol,Ubiquinone,Xanthophylls,Cucurbita Pepo (Pumpkin) Fruit Extract,Ipomoea Batatas Root Extract,Prunus Armeniaca (Apricot) Fruit Extract,Zea Mays (Corn) Kernel Extract,Ananas Sativus (Pineapple) Fruit Extract,Mangifera Indica (Mango) Fruit Extract,Citrus Paradisi (Grapefruit) Seed Extract,Citrus Aurantium Dulcis (Orange) Fruit Extract,Citrus Unshiu Peel Extract,Musa Sapientum (Banana) Fruit Extract,Daucus Carota Sativa (Carrot) Root Extract,Diospyros Kaki Fruit Extract,Citrus Limon (Lemon) Fruit Extract,PEG-60 Hydrogenated Castor Oil,Portulaca Oleracea Extract,Ammonium Acryloyldimethyltaurate/VP Copolymer,Xanthan Gum,Carbomer,Sodium Hyaluronate,Citrus Limon (Lemon) Peel Oil,Citrus Paradisi (Grapefruit) Peel Oil,Citrus Aurantium Dulcis (Orange) Peel Oil,Adenosine,Disodium EDTA,Hydroxyacetophenone,Caprylyl Glycol,Ethylhexylglycerin,Tromethamine,1,2-Hexanediol
SHOP HERE
Eunyul Yellow Seed Therapy Vital Ampoule