Hello beauties! COSRX is one of the most well-known K-beauty brand, at least in Malaysia as their products are both affordable and effective. Among the few holy grail products users swear by is the very very very famous COSRX Advanced Snail 96 Mucin Power Essence. I've been eyeing it for the essence for a while now but I've quite a number of serums and essences I intend on finishing before getting new ones. So I decided to try out the cream version of the cult-favourite snail essence- Advanced Snail 92 All in one Cream! So you may be wondering, is it any good?
It's claims:
Made with all-natural domestic 92% snail secretion filtrate, the Advanced Snail 92 All In One Cream acts to prevent aging and promote a healthy, rejuvenated skin while keeping in the hydration of a snail cream. Safe to use on any and all kinds of skin due to its nature of only natural, excellent ingredients, the Advanced Snail 92 All In One Cream is another COSRX MUST-HAVE!
Volume:
100g
Product Origin:
Korea
Ingredient List:
Snail Secretion Filtrate, Betaine, Caprylic/Capric Triglyceride, Cetearyl Olivate, Sorbitan Olivate, Sodium Hyaluronate, Cetearyl Alcohol, Stearic acid, Arginine, Dimethicone, Carbomer, Panthenol, Allantoin, Sodium Polyacrylate, Xanthan Gum, Ethyl Hexanediol, Adenosine, Phenoxyethanol
The entire composition of this cream is made up of very soothing and moisturizing goodie. On the top of the list itself is their star ingredient- snail mucin! 
Snail Secretion Filtrate amazing for the skin (my skin loves it) . Here's a quick infographic:
It is also alcohol and fragrance free.
Not gonna lie, judging by the ingredient list itself, I would already call this a good product. But ingredient list is only one side of the coin, the way it's formulated and the way the ingredients work with each other is equally important in how the product is going to turn out.
How to use:
I use this as the last step of my skincare routine to lock in the moisture.
Review
This cream comes in a sturdy plastic tub with a classy matte finishing and a simple black metal lid. As someone who hates wasting product, I love products that comes in tubs because I can really use every last bit of the product without cutting the bottle/ tube open haha (who else does that, we should all form a club!!)
It is a gel-type cream, with a white, translucent, slimy texture. There is no scent to this cream. It spreads smoothly across the skin, and absorbs fairly quickly. It does leave a thin layer of occlusive film, which is not tacky or greasy in any way and doesn't bother me at all.
the texture is a dream!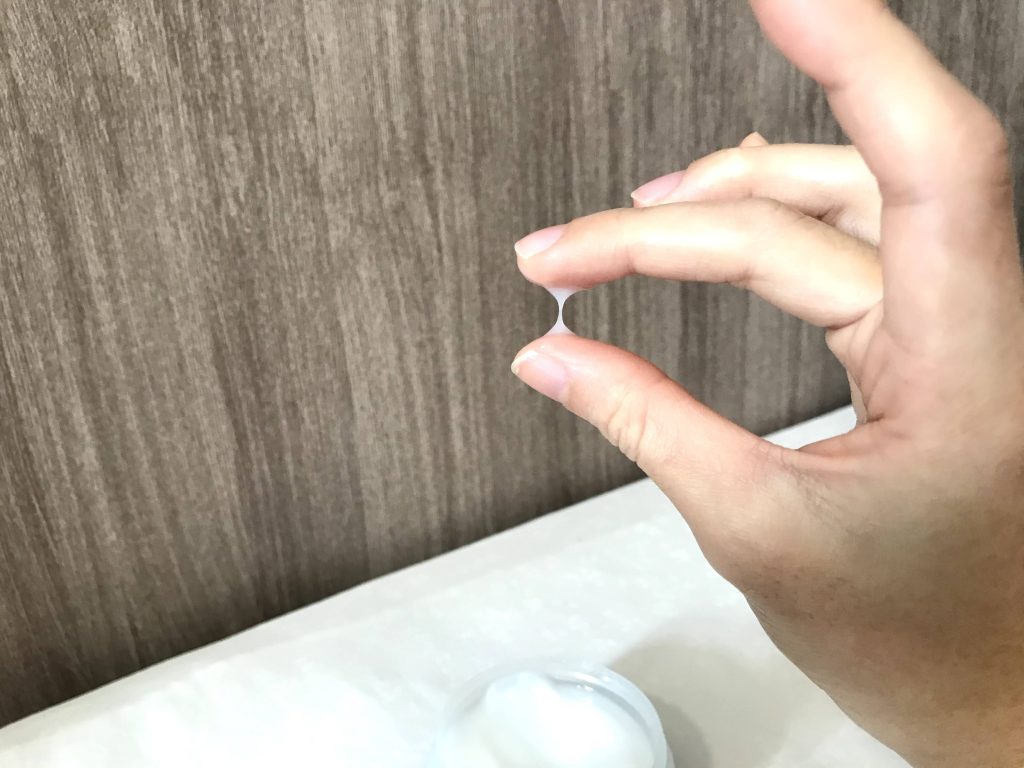 although it's quite slimy, it's very very very easy to work into the skin!!
Pros:
gives my skin a nice natural glow
really really plumps up my skin
soothes any breakouts i get
very moisturizing for my dry skin, my thirsty skin absolutely love this!!
doesn't feel heavy at all even in this hot malaysian weather (i use this both day and night!)
I have yet to use this long enough to see any improvements on my post inflammatory hyperpigmentation, but I could totally see myself using this cream long term!
To be honest, I don't fall in love with skincare products so easily. I do enjoy the skincare I'm using, but I genuinely love this Snail Cream since the first time I tried it. It was like love at first sight, and the love continued to grow as I see my skin improving day by day!
This cream is so underrated, I hope that this review will encourage more people to try this out!
Cons:
There isn't really anything bad I can say about this cream, maybe it should come with a small spatula instead? But I'm also fine with using my (clean!!) fingers..
actually you know what, I can just cancel this whole section.
Chances of me repurchasing this:
Very very high!
SHOP HERE
Cosrx Advanced Snail 92 All In One Cream