Hello everyone!
I think I have never written about any face oil before so today I'm going to show you this multipurpose oil that was raved back in 2019. This magnificent oil is from Benton, a famous brand from Korea. Let's see what this oil can do.
Product Description
The BENTON Let's Carrot Multi Oil is a multitasking oil packed with plant-based oils and carrots from Germany to reduce dead skin cells, prevent moisture loss, boost skin elasticity and supply rich nutrients to energise the skin. A layer of this oil will protect and keep your skin moisturised while your sleep, so you can wake up to softer, smoother and glowing skin the next morning.
Benefits:
🥕More than 99% of ingredients are derived from nature, providing deep skin nutrition and elasticity layer-by-layer.
🥕 A layer of oil protects and captures the moist within the skin, making the skin smooth overnight.
🥕 The main skin protection substance is a lipid – Multi Oil maintains the skin balance and lustrousnes which are incomplete by moisturizing only.
Ingredients
Caprylic / Capric Triglyceride, Coco-Caprylate / Caprate, Sunflower Oil, Olive Oil, Polyglyceryl-2 Isostearate / Dimer Dilinoleate Copolymer, Borage Root Oil, Canola Oil, Olive Peel Oil, Grape Seed Oil, Evening Primrose Oil, Glyceryl Caprylate, Avocado Oil, Tocopherol, Carrot Seed Oil (100ppm), Carrot Extract (660ppm), Vegetable Oil, Tocopheryl Acetate, Beta-Carotene, Fennel Oil, Tea Tree Leaf Oil, Peppermint Oil
Product Origin
Product of Korea
Volume
30ml
How To Use
1. For Skin Care:
As a regular face oil: At the last stage of your skin care routine, drop 2-3 droplets and rub it between your palms. Gently apply by patting it on your skin evenly to help it trap and retain moisture.
To help boost your other products' moisturising capabilities: If you feel like your serum, essence, ampoule or moisturiser is not hydrating enough, just mix in 1-2 droplets of the multi oil to boost its moisturising effects.
2. For Hand Care:
As a DIY softening hand pack: After washing your hands, mix 2-3 droplets of the multi oil with your hand cream. Apply evenly on both hands and wear a sleeping glove. You can sleep with the gloves on overnight or leave them for 10-20 minutes.
Managing cuticles for beautiful hands: Drop an appropriate amount of the oil around the cracked or dry skin surrounding your nails and rub gently. Your skin should feel moisturised and calm instantly.
3. For Cleansing:
For a moisturising cleansing experience: After dampening your hands and face with lukewarm water, mix the oil with your facial cleanser. While the facial cleanser removes impurities, the multi oil will help lock in moisture within the skin, so your skin will not feel tight after cleansing!
4. For Hair Care:
As a scalp moisturiser: Mix your shampoo and this oil in a 5:1 ratio, to help moisturise your hair and scalp while cleansing.
Protect your hair from the heat of the hair dryer: Before using a hairdryer, dispense a coin-sized amount of the oil and apply evenly on wet hair to prevent damage from the hairdryer heat.
DIY hair pack for silky and soft hair: If you have any unused body/ face cream/ lotion that's close to its expiration date, mix it with the multi oil and apply it on wet hair after shampooing. Leave it for 5 minutes, and it becomes a softening hair conditioner!
5. For Body Care:
Protecting rough and cracked heels and elbows: Get rid of dead skin cells and cracked and dry skin on heels, elbows, and/ or ankles by applying a droplet of the multi oil to deeply moisturise and smoothen skin.
Upgrading your body lotion: Have you ever been unsatisfied with the performance of a body lotion? You don't have to purchase a new product, just mix it with 2-3 droplets of the multi-oil, and this will help upgrade the lotion moisturising power!
6. For Glowing Makeup:
Avoid tight skin after matte makeup: If you ever felt like your skin feels dry or irritated after using matte makeup, especially during colder seasons, mix 1-2 droplets of this oil to build a moisturising makeup base, and for that glow-from-within look! This is my favourite method of all.
7. For Lip Care:
As a DIY lip mask for dry lips: Before going to bed, apply a droplet of the multi oil using a fingertip directly onto the lips, or apply it after lip balm. Wash everything off the next morning for smoother and supple lips. This method really help with my chapped lips. I apply this oil on my kids lips too before bed.
Packaging
Comes in a transparent glass bottle with a dropper. This product comes in a sugar cane box that is 100% biodegradable.
Texture
It has a lightweight consistency, runny and thin like a dry oil. So lovely for my combination skin.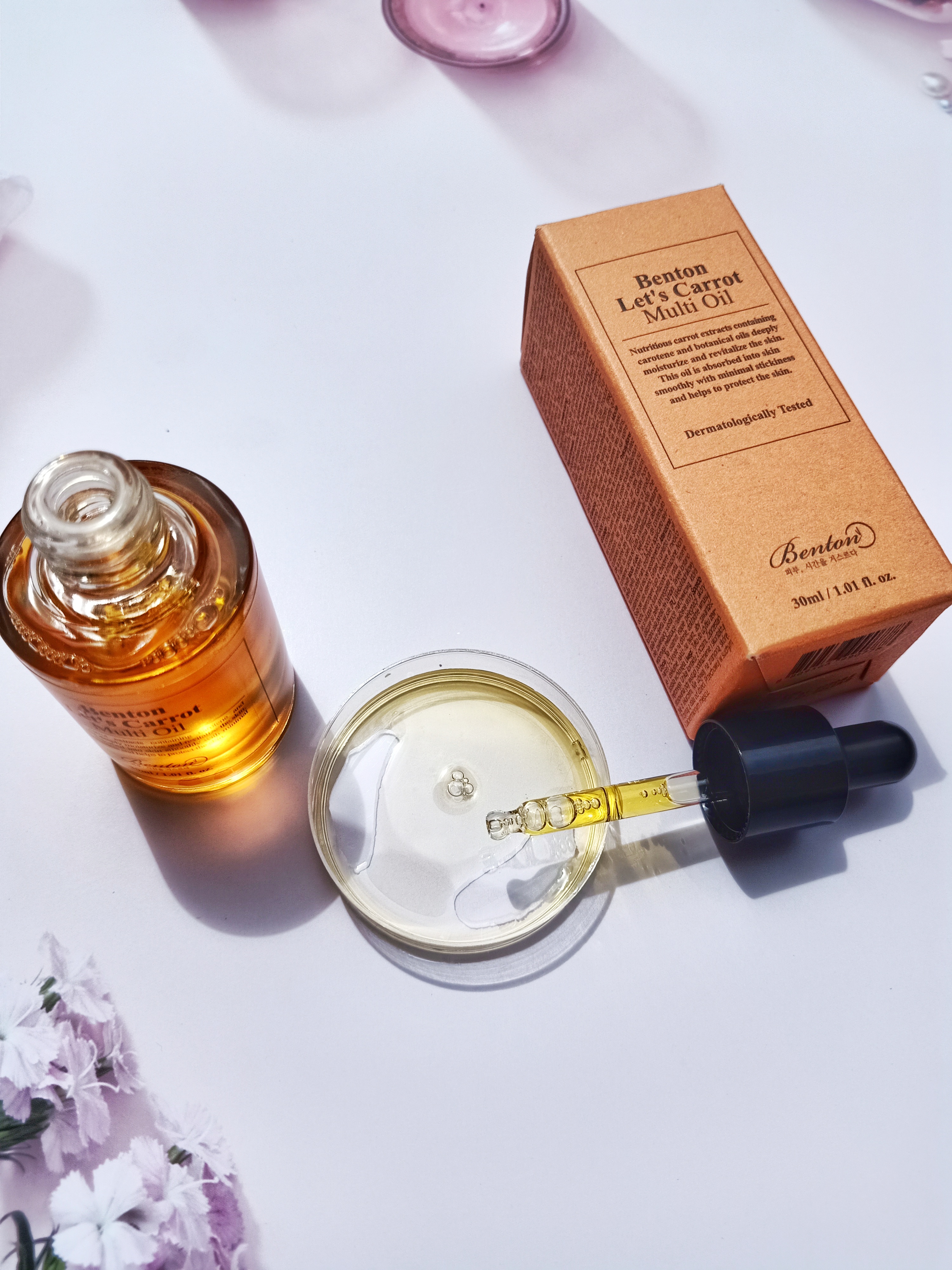 Scent
I think it smells like sandalwood and herbs. Doesn't last long and not overpowering.
My Experience
Even though it is said to be packed with anti-oxidant oxidant like their main ingredients, this oil also contains tea tree leaf oil (anti-acne), other anti-oxidants from fruit oils like olive and avocado oil. Not to mention evening primrose oil as soothing agent.
I personally love this multipurpose oil as it can be applied on my entire body from hair to toe. I personally love to add this to other products like in my body lotion to give maximum moisture for my body, cuticles and dry foot, in foundation for flawless coverage. I also love to apply directly to my hair for silky, shine and manageable hair.
It also work well as a facial oil (apply last step in my routine) to seal all the goodness and as a primer before I'm doing my makeup. So far I love everything about this oil. My combination skin approved.
Rate
4.5/5
Where To Buy