A common perception about facial oils is that they are not exactly necessary because the skin already produces oil, so why do I need to add on more oil to it? Our skin naturally produces oils, which help prevent water loss from skin to keep it hydrated and elastic. Face oils help keep your skin balanced and add an extra level of protection, while reducing the production of sebum (common cause of acne). Facial oils often contain plant-based potent ingredients, so the benefits are endless. Some benefits include reducing wrinkles, shrinking pores, balancing the skin and promoting a healthy, natural glow just to name a few!
I've never been into facial oils because of that common perception, but I've become quite a fan of it ever since I tried my first facial oil sample from Belif. After finishing my sample, I decided to try Pyunkang Yul's Oil as I've had a good experience with their Moisture Serum, also it was within my budget! 😂
Pyunkang Yul's Oil is a 100% naturally derived oil that can be used even on sensitive skin. It's made from 7 types of plant based natural oils, such as Jojoba Seed Oil, Geranium Oil, Rosemary Leaf Oil and Shea Butter to provide a gentle yet intense hydrating effect. The oil is lightweight to the skin while allowing it to feel fresh due to its excellent absorption qualities. It also provides the skin with nutrition which leaves the complexion looking radiant and glowing with health and vitality. The oil also helps provide the skin with a light oil barrier to help prevent moisture loss and wrinkles.
---
How to use:
At the end of your skincare routine, use the dripper and apply an appropriate amount on the skin.
Pro tip: Mix the oil with a cream or body lotion for a more intense hydrating effect
---
My review:
The oil smells so therapeutic and I always look forward to using it at the end of my skincare routine because the spa-like scent just makes me feel extra relaxed. The oil is on the watery side which makes it easy to be spread across the skin. I use about 2 to 3 small drops and it keeps my skin light, hydrated and glowy throughout the day. It's also not sticky at all which is mad love! 😍
While I don't have oily skin which oily skin people will have large pores, my pores are moderately sized and I do notice it becoming slightly smaller. I usually use Pyunkang Yul's oil at night, but when I use it during the day, I do notice that my face doesn't oil up as easily. My makeup actually lasts longer and my face doesn't get oily as fast whenever I add this facial oil to my skincare routine of the day. I sweat very easily so this was something I really appreciated! I occasionally squeeze my own blackheads and whiteheads as well, so I did notice there's also been lesser sebum production. I used to be able to squeeze out huge gunks but now there's nothing much to squeeze anymore.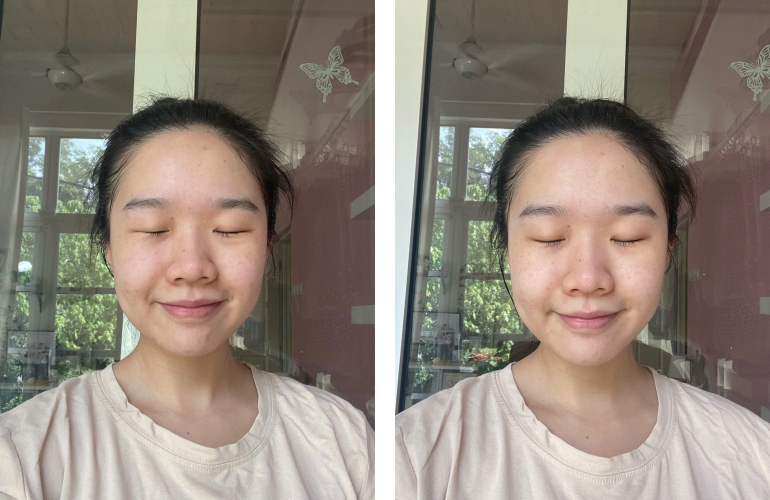 I took quite a while to write this review because I really wanted to observe the difference in my skin as facial oils do take some time to actually show significant results. I do recommend adding facial oils to your skincare routine as it is a good investment in the long run, especially when your skin is starting to mature.
Rating: 5 / 5 🌟
Ingredients list: 
Simmondsia Chinensis (Jojoba) Seed Oil, Helianthus Annuus (Sunflower) Seed Oil, Butyrospermum Parkii (Shea Butter), Geranium Maculatum Oil, Rosmarinus Officinalis (Rosemary) Leaf Oil, Citrus Medica Limonum (Lemon) Fruit Oil, Lavandula Angustifolia (Lavender) Oil, Citrus Aurantium Bergamia (Bergamot) Fruit Oil
SHOP HERE