Having a chinese mom, I got to know some things about Chinese medicine as she quite frequently brings me to the Chinese 'runcit' shops. There, you can get all sorts of herbs and medicines that you'd probably won't even know about unless you've been to one. This one Chinese shop that my mom always go to has a glass shelves behind the counter with cool looking ginseng roots encased in velvet boxes that looks so luxurious and probably cost a lot.
I know Ginseng can be consumed in the form of soups and drinks but I never knew they are not only beneficial for the body but also great in skincare too. Nope, I'm not talking about any luxury brand skincare. In fact it is actually from one of cult-fav brand – Innisfree! Of course I'm pretty sure they use economically-farmed ginseng roots which are much cheaper compared to Wild Ginseng but I'm pretty excited to try out and see how this Innisfree My Real Squeeze Mask #Ginseng will work on my skin!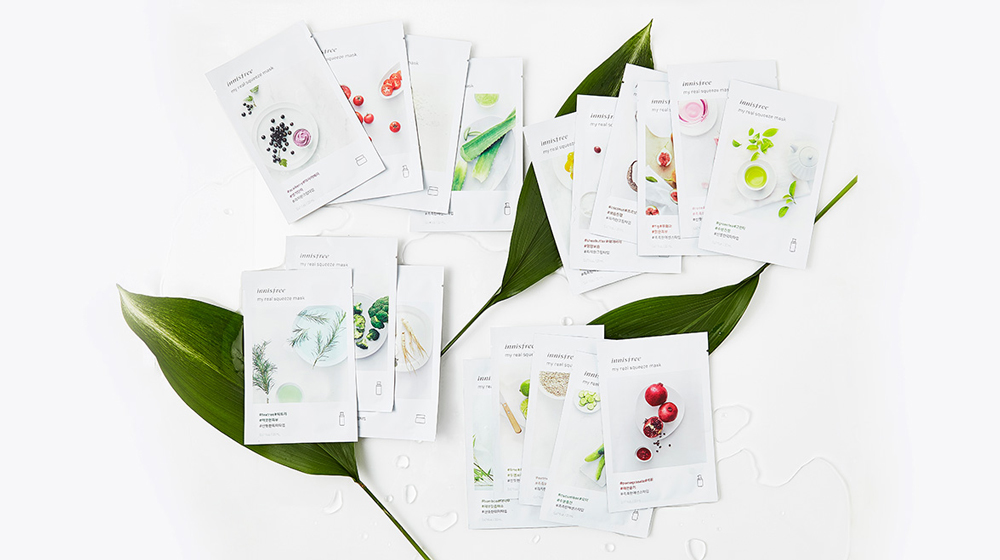 This rich cream-type real mask, enriched with abundant nourishment from ginseng, makes tired skin look moisturized and healthy
WATER, BUTYLENE GLYCOL, GLYCERIN, CETYL ETHYLHEXANOATE, CAPRYLIC/CAPRIC TRIGLYCERIDE, DIMETHICONE, POLYGLYCERYL-3 METHYLGLUCOSE DISTEARATE, PANAX GINSENG ROOT EXTRACT, GLYCERYL STEARATE, PANTHENOL, PEG-100 STEARATE, 1,2-HEXANEDIOL, CARBOMER, GLYCERYL CAPRYLATE, TROMETHAMINE, CENTELLA ASIATICA EXTRACT, XANTHAN GUM, ADENOSINE, ETHYLHEXYLGLYCERIN, PAEONIA SUFFRUTICOSA ROOT EXTRACT, CHAMOMILLA RECUTITA (MATRICARIA) FLOWER EXTRACT, DISODIUM EDTA, FRAGRANCE, ALOE BARBADENSIS LEAF JUICE, PANTOLACTONE, SODIUM HYALURONATE
PANAX GINSENG ROOT EXTRACT boosts skin hydration, diminishes rough texture, helps fade uneven skin tone, and help visibly improve wrinkles by working within skin to bolster its natural firmness
PANTHENOL is great humectant, great for those with dry skin. It helps to promote skin healing by enhancing cell growth. It'll binds with water and enhance hydration, making your skin feels smoother and supple
CENTELLA ASIATICA EXTRACT or also known as 'tiger grass' and is often used in cosmetics to help with the regeneration of new skin cells and prevents scarring. It also works as an effective calming and soothing agent for troubled irritated skin
Fit : 3.8/5
The fit is not the best because personally, I think the eye hole is a bit stretched to the side and upper-mouth piece is a bit too wide for my face.
Material : 4/5
Thin sheet mask made of eucalyptus pulp, feels really comfortable on the skin
Adherence : 4/5
Sufficient slits to cover and hugs your face's curves. Sticks snuggly on the skin, easy to smooth out the bubbles too
Scent : 3/5
Strong herbal ginseng scent
Texture : 3/5
The essence is white and creamy, feels slightly tacky if not properly absorbed
Recommended Skin Types
For all skin types especially dry skin type
Recommended time : 10-20 minutes
Dehydrated-combination, oilier on nose and cheek area. Prone to redness and mild acne.
Have you ever wondered why ginseng is so expensive? In traditional Chinese medicine, wild ginseng are grown for a long time and is thought to be a panacea – remedy for all ills or diseases. But of course scientifically speaking it is not true. Wild Ginseng is a highly sought-after herb especially ginseng roots that aged for years as it is said that the more aged the root is, the more potent the antioxidant content will be. Wild ginseng is always hard to find, especially for the big ones which take many years to grow hence why Ginseng is so rare and expensive 
Normally I wouldn't opt for creamy type of essence but it actually feels quite comfortable and not too heavy on the skin as my skin has became drier due to the cold weather and lack of moisture in Japan's winter season. This sheet mask has a pretty strong Ginseng's herb-ish scent that might turn-off some people with a sensitive nose. The material is quite soft and fully drenched in essence although I wasn't too happy with the fit but it's okay. The adherence is decent and I applied it on my face for a good few minutes.
I notice that after 15 minutes, my skin which tends to be drier (forehead and jaw area) pretty much drank the essence very well while the area in the center of my face where I tend to get oily easily (nose and cheeks) is still pretty damp. I took the sheet mask off and pat in the remaining essence.
I have to say it does takes some time for the essence to be fully absorbed, and it feels slightly tacky and not comfortable to be left as it is. But after a while patiently patting, my skin feels very moisturized and look slightly dewy. I love how it helps relieve the tight feeling due to dryness and how it helps tones down the redness of my skin. It feels so soft and bouncy too 
This sheet mask provided me with excellent hydration however due to my combination skin type, after an hour I could feel sebum starts to form on my nose where it tends to get oily very quickly. I came to the conclusion that it is a bit too moisturizing for my skin but I can see this will be wonderful on dry skin type. I bet this sheet mask will work better if I simplified my routine with less products next time I try it on. 
✨ Always listen to your skin ✨
P/s: All opinions and thoughts are based by my experience and solely mine.